What is rollover?
Rollover, also referred to as your playthrough requirement, is the monetary amount of wagers you need to make in order to cash out your bonus balance and any associated winnings. Even if your wager is a loss, each eligible bet placed contributes towards the requirement.
You can find the rollover requirement for a bonus on your Rewards page. Simply click the 'Bonus Description' tab for any bonus and it will show further details and the applicable Terms and Conditions.
Remember, on a deposit bonus, your rollover is based on a multiplier of the deposit plus the bonus amount:
Deposit $100 + $100 Bonus = $200 X Rollover Multiplier*
*The multiplier can vary depending on the bonus
Some Casino games may contribute differently to your rollover requirement. Review the Terms and Conditions in the 'Bonus Description' to view the Wagering Contribution Chart.
Rollover in our Sportsbook for winning wagers will be determined by the lesser amount of your risk or win at the time of wager settlement; for losing wagers, your risk amount will be credited to your rollover contribution. Ties or Pushed bets, bets graded 'No Action', as well as any canceled or voided bets, do not contribute to rollover in any way.
Watch our video tutorial to learn about the important playthrough requirements of a bonus or promotion and how to track your progress. You can also follow the step-by-step instructions outlined below.
How do I Track my Remaining Rollover?
In order to track the rollover requirement on your bonus:
1. Click the silhouette icon at the top of the page.

2. From your dashboard, click 'Rewards.'


3. Under Active Bonuses, your Rollover or Playthrough Progress is represented by a progress bar along with a percentage highlighted in green.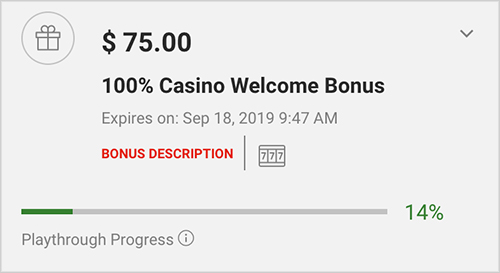 4. Hover over the information bubble to indicate how much you still need to play and where.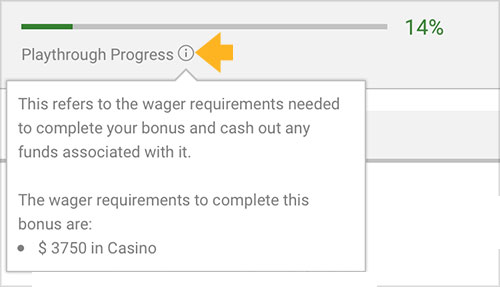 Depending on the bonus you've claimed, a combination of activity can help you achieve your requirement even faster.
IMPORTANT REMINDER:
All deposits

must

be wagered completely before any winnings can be withdrawn. By not meeting this requirement, your withdrawal may be subject to cancelation at the discretion of our Withdrawals Team and return of funds to your account balance.

Exceptions will be made for peer-to-peer methods such as

Player Transfer

.
RELATED TOPICS:
Did you find what you were looking for?