Help
New Site FAQs
Sports FAQ
Casino FAQ
Poker FAQ
Horses FAQ
Bitcoin FAQ
Financial FAQ
Bonuses FAQ
General FAQ
Refer A Friend
What games can I play with my bonus?
To see a list of games that can be played with a bonus, click the silhouette icon at the top of the page, then click 'Rewards'.


Under Active Bonuses, click the drop-down menu next to your balance in order to see the playthrough requirements and game restrictions on a bonus you have redeemed.
Under Available Bonuses, click the drop-down menu next to the 'Deposit' button to display the playthrough requirements. You may refer to the channel icons, such as the horse icon or the poker chip icon, to indicate where on Bodog the bonus must be played to meet the playthrough requirement.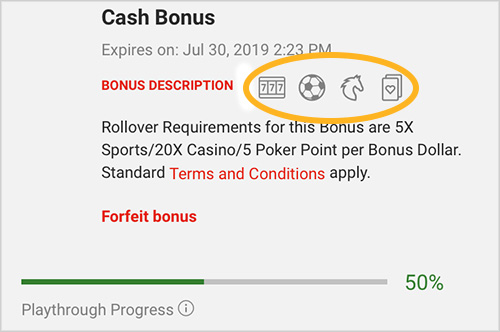 Don't hesitate to call us if you have any questions or are unsure about any of these rules. We're just a click to the left. Send us an email or chat with us live. Our dedicated agents are available 24/7 to help.
Related Topics: