Help
New Site FAQs
Sports FAQ
Casino FAQ
Poker FAQ
Horses FAQ
Bitcoin FAQ
Financial FAQ
Bonuses FAQ
General FAQ
Refer A Friend
What is a single bet?
A single bet, otherwise known as a straight bet, is a wager on the outcome of a single event or game. Select either the outright winner (Moneyline), the point spread (Spread), or the combined scores of both teams (Total). Your payout is determined by the odds posted at the time you place the bet.
How to Place a Single Bet
1. Login to your Bodog account and click Sports at the top of the screen.

2. Select your sport from the panel. If you don't see your sport, click 'All Sports' to show more. By default, the page will only show open events or those that have lines available for betting.

3. Select your line by clicking the appropriate box with the odds. Your selection will be added to the Bet Slip on the right of the screen.


4. In the Bet Slip, enter either a risk or win amount in the boxes provided. The total win or risk amount is automatically calculated for you.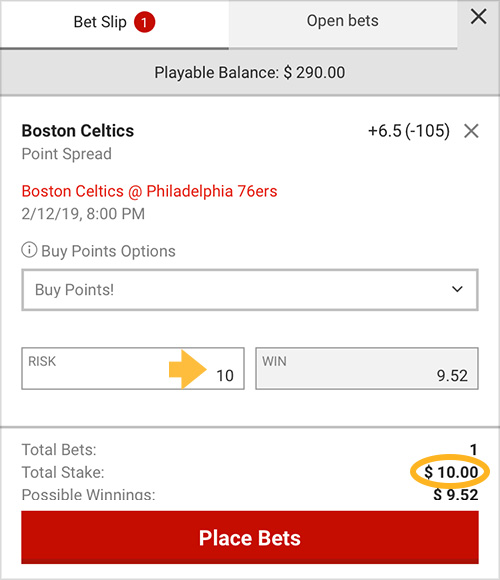 5. Review the details of your single bet. If you want to proceed, click 'Place Bets'.
6. Click 'Continue Betting' to clear the bet slip and carry on.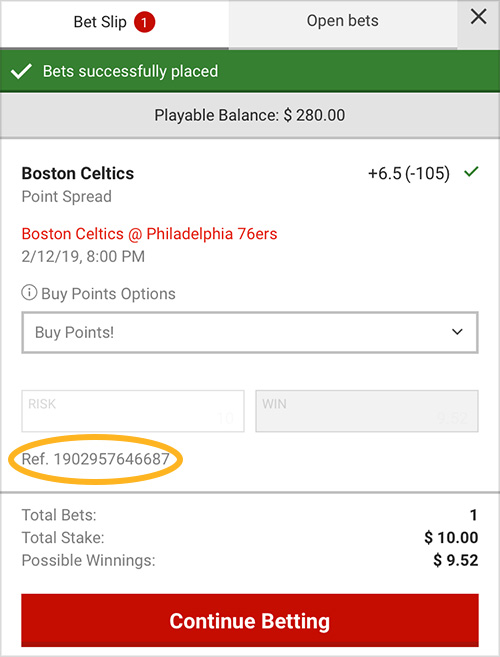 Single Bet Rules
You must place your bet on the outcome of a single event or game (i.e., you can't combine bets).
Unless noted otherwise at the time of placing your bet, you win $100 for every $110 wagered.
Multiple Single Bets
You can place up to 20 straight bets simultaneously, all at the same time. The bets can be from the same or different sports, leagues, or portions of the game and the wager amounts can be the same or different for each bet.
Need some extra guidance? Scroll to the bottom of the page and click 'Conatct Us'. You can chat with us live or send us an email. Our dedicated agents are available 24/7 to help.
Related Topics: