Help Home
Sports
Casino
Live Dealer
Poker
Horses
Bitcoin
Financial
Bonuses
Account and Security
Video Library
Refer A Friend
How does the Sports Bet Slip work?
1. Select a line you want to wager on and it will be added to your Bet Slip.

On Mobile, this can be accessed by clicking the icon at the bottom of your screen. On Desktop devices, the slip appears to the right of the betting lines.

2. Enter a Risk or Win amount in the blank fields provided. The total Win and Risk amounts are automatically calculated at the bottom of the slip.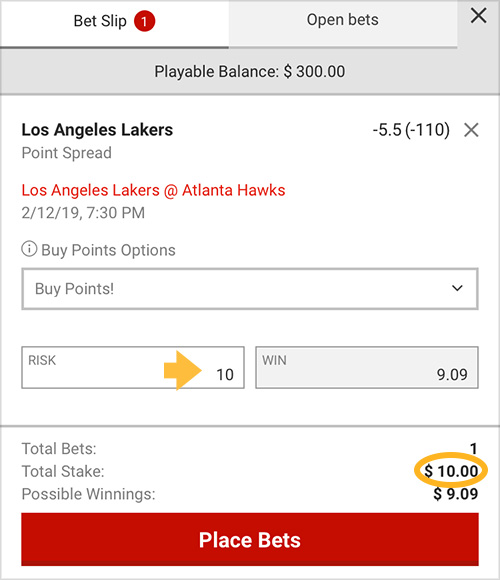 3. Multiple wagers can be added simultaneously. If you wish to remove one from the Bet Slip, simply click the 'x' next to the selection.
4. Depending on your choices, other possible wager types such a parlays, teasers, or round robins may become available on the Bet Slip. Simply enter your numbers in the fields provided.
5. Review your slections carefully. Your bets cannot be changed once they are placed.
6. Click 'Place Bets'. and you'll be presented with your wager reference number. To view your pending wagers, click 'Open bets' at the top of the Bet Slip.
RELATED TOPICS:
Did you find what you were looking for?