How does the Sports Bet Slip work?
You can place a variety of wagers on our dynamic betslip. Learn how by watching our short video tutorial or follow the step-by-step instructions below.
1. Select a line you want to wager on and it will be added to your Bet Slip.

On Mobile, this can be accessed by clicking the icon at the bottom of your screen. On Desktop devices, the slip appears to the right of the betting lines.

2. Multiple wagers can be added simultaneously. If you wish to remove one from the Bet Slip, simply click the 'x' next to the selection.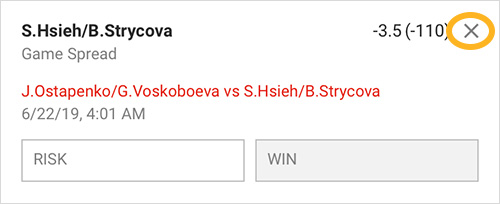 3. There are two tabs at the top of the Bet Slip, Singles - to place one single or multiple single bets and Multiples - where you find options to combine your selections into a Parlay, Teaser or Round Robin bet.

4. Depending on your choices, other possible wager types such a parlays, teasers, or round robins may become available on the Bet Slip. Simply click the '+' next to the wager type and enter your risk amount in the field provided.

Combined odds for any multiple wager (Parlay/Teaser/Round Robin) will be displayed above your selections:

5. Review your selections carefully. Your bets cannot be changed once they are placed.
6. Enter a Risk or Win amount in the field provided. The total Win and Risk amounts are automatically calculated at the bottom of the slip.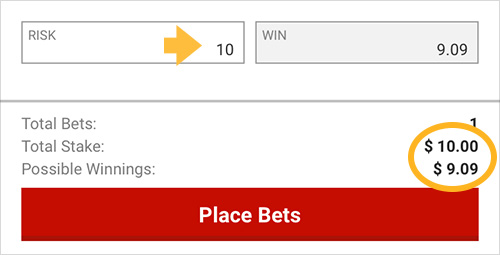 7. Click 'Place Bets'. and you'll be presented with your wager reference number.
8. To view your pending wagers, click 'Open bets' at the top of the Bet Slip.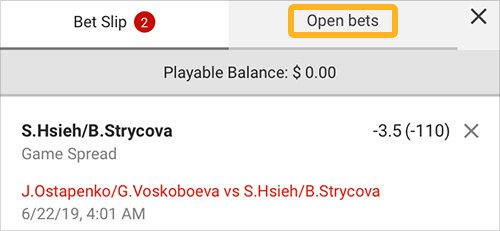 RELATED TOPICS:
Did you find what you were looking for?