What are Fractional Odds?
Fractional odds are represented as a fractional number illustrating what your profit will be on a one-unit wager. For example, odds of 4/1 ("four-to-one" or "four-to-one against") means that you stand to win $4 for every $1 you wager. On the other hand, odds of 1/4 ("four-to-one on") means that you must wager $4 to win $1. When the odds are 1/1, you'll win exactly what you wager. The fractional form of a standard line is 10/11 as represented in the example below:

How to change the odds format to Fractional:
1. Click the silhouette icon at the top of any page, then select 'Profile Settings'.

2. Click the arrow next to Sports Odds and select 'Fractional Odds' from the menu.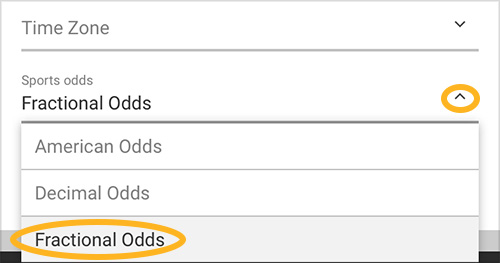 3. Click 'Save' to lock in your changes.
RELATED TOPICS:
Did you find what you were looking for?