Help
New Site FAQs
Sports FAQ
Casino FAQ
Poker FAQ
Horses FAQ
Bitcoin FAQ
Financial FAQ
Bonuses FAQ
General FAQ
Refer A Friend
Can I cancel my withdrawal?
As long as a withdrawal has not been processed and sent, you can cancel it using the cashier. If your withdrawal has been approved, you can reduce the amount using the cashier as well. Just follow the steps below:
1. Login to your account and click the silhouette icon at the top of the page; then click 'Withdraw'.


2. If your withdrawal is in a pending state and has yet to be approved, click 'Cancel Withdrawal' if available.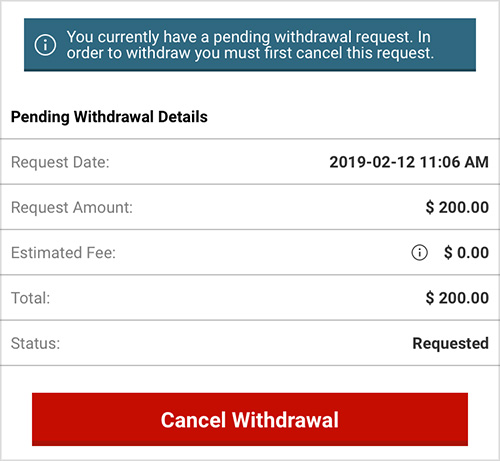 3. If your withdrawals has been approved but not sent, you can lower the amount by clicking 'Reducing Amount' if available.
4. Your funds will then return to your account balance. Should you encounter an issue, or have any questions or concerns regarding your withdrawal request, we're just a click to the left of this help topic. Send us an email or chat with us live. Our dedicated agents are available 24/7 to help.
Related Topics: