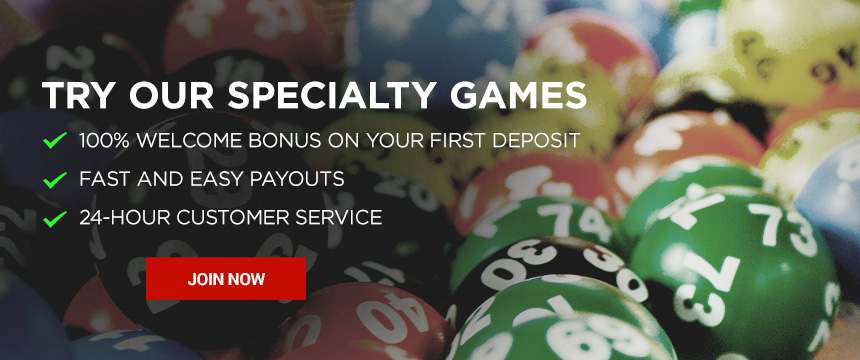 Comprehensive Casino Specialty Games Guide
There's more to a casino than slots, table games, and video poker. Keno, for instance, is played in major casinos all over the world, including right here at Bodog Casino. We have two versions of it, and to find them, you need to visit our Specialty Games section.
In addition to Keno, specialty games include bingo, scratch cards and casino Sudoku. These are your lotto-style games, and they pack a punch. In this specialty games guide, we explain how these games became popular, provide some specialty games tips, and give an overview of the hottest specialty games in the market, including online bingo and online Keno. By the end, you'll know which specialty game suits which scenario.
Why are Specialty Games Popular?
It was hard to predict just how popular bingo would become when it was first introduced as "beano" at an American carnival in 1929. Since then, several game shows have featured it in different ways, and people couldn't get enough of it.
The reason bingo, along with other specialty games, is so popular is because of the ease-of-play. Sure, sometimes, we want to indulge in a drawn-out session of our favourite game. After all, there's nothing quite like hitting a hot streak at the blackjack table. But other times, something quick and easy is better. When you play specialty games, you satisfy the latter scenario, as they provide bite-sized gambling sessions that can give you a rush on the go.
Bingo Overview
At its core, bingo is a numbers lottery where you get a card with numbers plucked from a wider range; the lottery consists of drawing a random assortment of winning numbers, some of which will be the same as the numbers on your card. These cards contain 9, 25 or 27 numbers, depending on the version of bingo you're playing. With American Bingo, these numbers are assigned a letter in addition to a number. Other versions contain numbers only. Action is kicked off when the numbered balls are released; any numbers that match the ones on your card are considered "hits" and work towards creating a winning line.
Out of our 11 bingo games, six are themed and five are traditional. Themed bingo has bonus features in addition to a storyline, which we'll explain in the sections below.
Traditional Bingo
Play online bingo with up to 100 cards that contain 3x3 grids in this 30-number version. You get three options when choosing how many balls to draw; the more numbers drawn, the higher your odds of winning, but the lower the payouts.
With numbers 1-80 available, your cards contain a random assortment of 16 numbers. There are seven different ways to win.
With American Bingo, your cards have the classic 5x5 grid with the star providing the freebie in the centre and a letter (from BINGO) heading each column. For a hit, you need the correct letter-number combination.
Go-Go Bingo is the most customizable bingo in our casino. Choose between slow, normal and turbo for the pace of the game, and six different background colours. This game is mobile-optimized, making it easy to play on small screens.
European Bingo is played with cards containing 3x9 grids. The number range is 1 to 90, and you can choose if you want 45, 55 or 65 numbers drawn.
Themed Bingo
An underwater setting with a fishing bonus shatters the traditional expectation of bingo in Pesca Bingo. This game comes with an Extra Balls feature that lets you purchase up to 12 extra numbers to be drawn anytime you're one number away from a win.
When you play Tribo Bingo, you get opportunities to win extra cash beyond standard bingo wins. An arrow-shooting bonus round rewards accuracy with cash payouts, so brush up on your shooting skills before visiting the tribe.
A secluded fishing village has everything you need for a killer bingo experience: a progressive jackpot, an Extra Balls feature, and a bonus round that gives you coin for every basket of fish you collect.
Beneath the bright lights of the soccer stadium, Bingo Goal lets you play up to four cards per round. There are 10 winning patterns plus a progressive jackpot that's triggered by winning bingo within the first 30 balls.
What better place to play bingo than the Amazon? This bingo version has a progressive jackpot, Extra Ball features, and bonus round that involves exploring the rainforest with the most exotic creatures around.
Waterfalls create the ideal backdrop for Cataratas Bingo. If you land the square pattern displayed on the paytable, you get to spin a wheel of fortune beside a lucky waterfall for bonus money.
Understanding Keno
Keno is similar to bingo, but instead of getting cards with pre-populated numbers, you choose your own numbers from a list of 1-80. Up to 15 numbers can be chosen per round, and once you're ready for action, 20 numbers are drawn randomly. Any hits that match your selections are highlighted on your Keno card automatically.
Keno is one of the only casino games without a standard paytable, and that's because payouts depend on the amount you're wagering and the number of selections you make. You could need only one hit to get paid, or as many as seven. The more hits you get, the more you get paid. When you begin making your number selections, a temporary paytable appears telling you how many hits you need for each payout. Try to find balance in your approach to the selection because the more numbers you take, the more you need to hit to get paid.
Other Specialty Games
Scratch cards are also very popular in our Specialty Games section. These are similar to what you'd find at a corner store, but the online ones are more interactive because of moving animations. Depending on the scratch card, there will be six to nine concealed symbols that need to be "scratched" to be revealed. Simply drag your cursor or finger over them to scratch away the top layer. To win, you need three or more matching icons.
Sudoku may be based on the Japanese number-placement game, but in our casino, it plays more like a slot. With every spin, new numbers (between 1 and 9) appear on the 3x3 grid. To win, you need three or more matching numbers, or numbers 1-9 with no repeats. This game includes two jackpots: one for getting numbers 1-9 in any order, and a bigger one for landing 1-9 in consecutive order. Be sure to wager the 5-coin max, or you won't be eligible for the jackpot.
Playing online specialty games is a great way to pass the time when you're looking for a quick-and-easy gamble. There's no specialty games strategy to research, and very few rules to keep in mind; for the most part, you simply choose how much to wager, and watch the action unfold in front of you. It's that easy. Choose from any of our 20+ specialty games to see just how simple casino gaming can be.