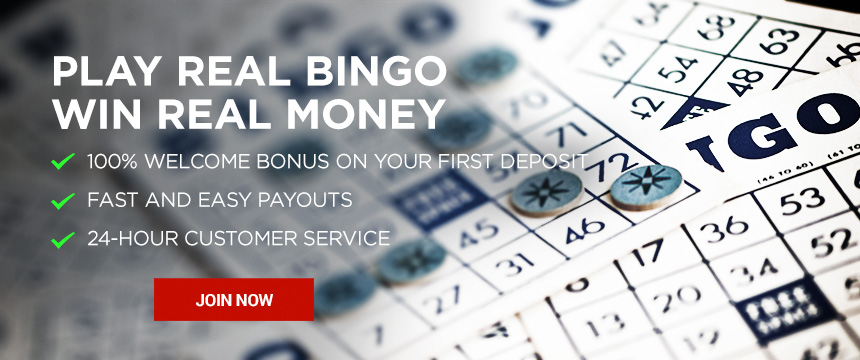 Get paid every time you yell BINGO!—without having to leave home. In our online casino, you can play bingo online 11 different ways, anytime and anywhere. All you need is an internet connection and a computer or smartphone. Log on to your Bodog Casino account, and the web's most popular bingo games are right at your fingertips. No downloads required.
When it comes to real money bingo, online casino versions offer a completely different experience than what you'd get playing in a regular bingo location such as a bingo hall or at a land-based casino. Virtual casino games allow for more creativity from the software developers, and you can see that in the vast selection of online bingo games available in our Specialty Games section. Play European and American versions of the game for a classic yet enhanced experience.
For something completely new, try out our South American-bingo tour, which has games that take you around the southern continent, while offering innovative bonus features, such as money-earning bonus rounds, surging progressive jackpots, and the ability to purchase extra numbers when you're just one number away from a win. But before we get to the innovative side of our popular bingo games, we'll explore the roots of this cherished pastime.
History of Online Bingo
Few games have been popular for as long as bingo. With a history that stretches back to the 16th century, bingo has undergone a number of changes to become the barrie online version we play today. Bingo's predecessor was a national Italian lottery called "Il Giuoco del Lotto d'Italia" and was held weekly from 1530 onward. This was a government-run lottery that helped generate funds for the nation's budget.
By the late eighteenth century, the game migrated to France, where it underwent a major change. Cards with three horizontal rows and nine vertical columns were added, and each vertical column accommodated 10 numbers from a range of 90. The game started with the caller (the person drawing and announcing numbers) pulling numbered wooden tokens from a satchel, while players struck them off their cards. The first player to complete a full line won the game.
Educational versions of bingo became popular in Europe in the 19th century—especially in Germany. Through bingo, children learned their multiplication tables, names of things, world history and spelling, in a fun and engaging way.
The version of bingo that North Americans are familiar with came about in the 20th century in the States. Hugh J. Ward brought the game over from Europe, made some key changes (including switching to the 5X5 grid and incorporating letters), and copyrighted it in 1924. He wrote a book on the rules of the game nine years later. In December 1929, a toymaker from New York named Edwin Lowe stumbled upon Ward's game at a carnival in Atlanta and was amazed by how much action it got. Lowe mass-produced the game under the name Bingo and sold a 24-card set for $2 and a 12-card set for $1.
The Rise of Online Bingo
Bingo was primarily played in church basements as a charitable game until it transitioned to mainstream bingo halls and eventually to online casinos in the '90s. Web-based bingo changed the nature of the game by offering versions with themes, bonus features and progressive jackpots, making for a more interesting twist of the classic game. As part of the custom-package of online bingo, you can also play at various paces; Turbo is included in most web-versions of bingo, including our very own Go-Go Bingo, which includes a Slow and Normal setting in addition to Turbo.
Playing For Real Money
Rest assured that all our live online casino bingo games can be played for real money payouts. When launching a game, you'll be asked to choose between Practice Play and Real Play. While Practice Play is ideal for testing out our different games, when you want to play online bingo for real money, opt for Real Play mode. Any money you win from your bingo cards is automatically added to your bankroll, which can be withdrawn for real cash.
Different Types of Online Bingo Games
Go to our Specialty Games section, select "Bingo" and you'll see 11 different types of bingo games that cater to different kinds of bingo players. Are you a bingo purist who doesn't like to mess with a good thing, or are you one to prefer creative twists on casino classics? Your answer will send you down one of two bingo paths.
Traditional Bingo
Traditionalists will get the experience they want with American Bingo, European Bingo, 30 Ball Bingo and 80 Ball Bingo. The American style of the game uses a 5X5 grid with a star in the centre and a letter at the top of each column. The premise of the game is the same with all versions of bingo. Bingo rules are universal; you purchase cards with numbers loaded on them and watch for your numbers to be drawn. They're crossed off automatically as this happens. If you get enough hits to form a winning bingo line, you get paid.
Those with more experience playing Euro-style bingo will be familiar with the 3X9 grid cards used in our European Bingo that contain a mixture of five numbers and four blanks per row. The blank squares are freebies just like the centre star in American Bingo.
Both 30- and 80-Ball Bingo use numbered grids for their cards and let you choose between three options for how many balls you want drawn. You can play up to 100 cards per round.
Custom Bingo
For the ultimate custom bingo experience, look no further than Go-Go Bingo. This smartphone-friendly bingo game lets you choose the background colour, speed of play, music and sound options. It's also equipped with a tutorial to run through the game basics in an engaging and interactive way, making it the perfect choice for bingo beginners.
Bonus Bingo
Make way for a new kind of bingo with our six bonus-packed bingo games. Each new game has a unique theme that takes you to a fascinating location, the corner of South America. You could be taking a penalty kick for the home team at a jam-packed soccer stadium, collecting baskets of fish in a remote fishing village, or taking a breather beside cascading waterfalls after a hike through a cloud forest. The themes offer an experience beyond standard bingo.
All of our bonus bingo games offer bonus rounds for extra cash and an Extra Balls feature. The Extra Balls feature lets you purchase several extra balls when you're one number away from a bingo win. Pesca Bingo, for instance, lets you buy up to 13 extra balls, and Tribo Bingo lets you buy up to 12 extra balls. Bonus rounds, meanwhile, are unique to the game you're playing. They tie into the theme and ask you to complete a challenge in exchange for bonus money.
Half of our themed bingo games are equipped with progressive jackpots, which are massive pots of money triggered by winning bingo a certain way, which is outlined in the rules. To be eligible for the jackpot, make sure to play with four cards per round at a minimal cost of $1 per card. Bingo Ribeirinhos, Bingo Goal, and Amazonia Bingo are the options for bingo games that include progressive jackpots.
With our bonus bingo games, anytime you purchase bingo cards with numbers that you don't like, you can exchange them for different cards—free of cost. Do this as many times as you want until you get the numbers you're looking for. It's a benefit that many online bingo players look for when choosing a game to play.
Bingo Tips
Looking for tips to help you get winning with online bingo? There's no need to be a bingo savant to score a payout in our casino gaming. Simply search for the bingo game with the biggest progressive jackpot, or play a classic version of the game with enough game cards to bump up your odds of winning. You can further increase your odds of winning by opting for more balls to be drawn through the Extra Balls feature, or the pre-game option that lets you choose between three different numbers of drawn balls. There are lots of different ways to alter the odds; the choice is yours, so experiment and see what works for you.
But ultimately, bingo is a game of chance—just as it was in Italy many years ago. Let this lotto-style game test your luck with real money on the line. When the time comes, don't be afraid to yell Bingo as you gather your winnings. It's all added straight to your account's bankroll.