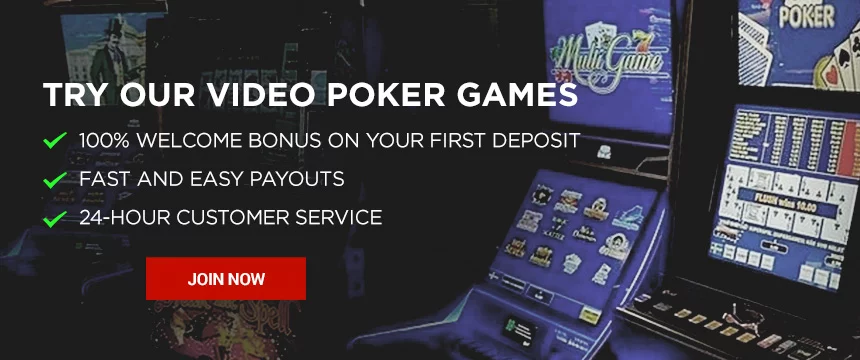 Looking to play online video poker for real money? Bodog Casino has 17 video poker games—all of which award real money payouts to winning rounds.
Not all casino players realize how much value can be found in video poker. Compared to slots, video poker machines are quiet and restrained, making them less obvious to the untrained eye. These games offer incredibly low house edges and opportunities to win jackpot-sized payouts. There's also room for strategy, which is the main difference between video poker and slots, making them extra-appealing to players who prefer games they can make active decisions in. If you haven't dabbled in video poker yet, you'll soon know how the games work, how much they pay, and how to increase your odds of making a profit.
What is Video Poker?
Released in the '70s, video poker is essentially draw-poker played on a video screen. It combines elements of slots and poker to create a game that plays solo but also requires strategic decision-making. This generated a big following among casino players who liked the idea of table games, but preferred the anonymity of slots.
Video Poker Games We Offer. How They are Different.
The original video poker game was a variation of Jacks or Better. While we still offer this fan favourite, there are several other online video poker games available in our casino too. Some of these include wild cards as part of their gameplay, while others offer bonuses for top-tier hands. Games that don't fit into either of these categories are considered "low volatility" video poker games, meaning they pay modest amounts regularly.
Wild Card
A video poker game with a wild card included makes it easier to win, as the wild card substitutes for any card in the deck. Out of our wild card video poker games, you can choose between Deuces and Jokers as the wild card. Keep in mind, there are more Deuces in a deck than Jokers, so it's easier to build winning hands with the former. As a result, the minimum hand needed to win a payout is higher for Deuce wild card games than with Jokers. We have four wild card games available:
Bonus
Games that offer extra-big payouts for certain top-tier hands are considered "Bonus" video poker games. These typically divide certain standard hands, offering bigger than normal payouts for some of them. For example, Double Jackpot Poker takes quads, which would pay 125 coins in a non-bonus game, and offers bonus payouts for landing premium quads, such as four Aces and four face cards. We have the following six bonus video poker games:
• Bonus Poker
• Bonus Poker Deluxe
• Double Bonus Poker
• Double Double Bonus Poker
• Double Double Jackpot Poker
• Double Jackpot Poker
Low Volatility
Only one video poker game doesn't fit into the bonus or wild classifications and that's Jacks or Better. Instead of offering flashy bonus payouts, Jacks or Better offers solid payouts for every standard poker hand, and this makes a big difference when you get to the bottom hands. Let's face it, you're going to be landing 2 Pair far more often than you'll land a straight flush, and that's where Jacks or Better pays double than what other video poker games pay.
Video Poker Basics
Anyone who hasn't played video poker yet will benefit from a quick run-down on how a round works. To start, you bet between one and five coins, with coin denominations ranging from $0.05 to $5. Once you receive a five-card hand face-up, you choose which cards to keep (draw) for your final hand. The cards you reject are replaced with new ones which are added to your draw cards to form your final hand. At this point, your hand is assessed based on the standard poker hands listed on the paytable. If you have the minimum required hand on the board (or better), you win the payout listed.
Some video poker games come with a Double Up feature that pops up when you win a round. To double your win, you must go head-to-head with the Dealer who has selected a card from the deck and placed it face-up on the screen. Out of four cards placed face down, choose the one you think will beat the Dealer's. If you succeed, you double the amount won in the previous round, but if you lose, you lose the payout.
Paytables & Returns
Each video poker game has its own unique payouts, which are listed on the paytable. Through these payouts, you can figure out the returns on any given video poker game. Let's go through an example of a video poker paytable to explain how they work.
Deuces Wild for Real Money: Paytable
If you look at the Deuces Wild video poker paytable, it is broken down by poker hand in the first column and number of coins wagered in the top row. With each additional coin wagered, the payout increases incrementally, with a 4000-coin jackpot being offered for landing a Royal Flush on a 5-coin bet. This game requires a minimum of a 3 of a Kind to win.
As is the case with all our wild card games, there are two unique poker hands made possible by the inclusion of wild cards: the Wild Royal and the 5 of a Kind. To land a 5 of a Kind, you need four cards of the same rank (ex. Four Jacks) plus one wild card which will take the form of those four cards. As for the Wild Royal, that's basically a Royal Flush that includes a wild card; this will always pay less than the standard Royal Flush.
To determine the return of a video poker game, you need to take the payouts from the paytable and plug them into a video poker calculator from a reputable source. This will calculate returns for each hand as well as the total return for the game. The return for Deuces Wild based on the above payouts is 98.91%.
Getting Started with Video Poker
To get started with video poker, you need to decide which game you want to play and how much you want to invest in the session. A good place for beginners to start is with Jacks or Better, which keeps things simple. If you're looking for something more interesting, you may want to play video poker with a wild card included. Joker Poker has a lower minimum hand requirement (Pair of Kings or better) than the Deuce wild card games. As for casino players who like the thrill of potentially winning big jackpots, any of our bonus video poker games will be best.
Video Poker Probabilities
Have you ever wondered about the probability of landing a Royal Flush in video poker? If you're playing Jacks or Better using optimal strategy, you'll theoretically land a Royal Flush once out of every 40,390 hands. Thinking about hand probabilities will increase the accuracy of your expectations. Here are the probabilities of each of the eight winning hands in our full pay Jacks or Better:
Royal Flush: 0.002%
Straight Flush: 0.011%
4 of a Kind: 0.23%
Full House: 1.15%
Flush: 1.10%
Straight: 1.12%
3 of a Kind: 7.4%
2 Pair: 12.9%
Jacks or Better: 21.4%
Learn the Poker Hands
If you've played poker before, you'll already be familiar with the winning video poker hands. Here they are listed from strongest to weakest:
Royal Flush: Ten, Jack, Queen, King, Ace, same suit
Straight Flush: Five cards consecutively ranked, same suit
4 of a Kind: Four cards, same rank
Full House: Three cards same rank, two cards same rank
Flush: Five cards, same suit
Straight: Five cards consecutively ranked
3 of a Kind: Three cards, same rank
2 Pair: Two sets of two cards that are the same rank
Pair: Two cards, same rank
Video Poker Lessons
Gaining an edge at video poker isn't difficult. Simply follow our three basic video poker lessons to maximize profit and minimize loss.
Bet Max
The first rule of video poker has to do with betting configurations. When looking at a paytable, check to see if there is a jackpot offered for the Royal Flush on a 5-coin wager. Typically, the payout for a hand increases by the same increments with every additional coin wagered, and then jump to 4000 when you hit the 5-coin bet. If there's a jackpot, you need to bet 5 coins per round to be eligible. If you're looking to stay within a bankroll budget, decrease the coin denominations instead of the number of coins wagered.
1 Hand vs. Multi-Hand Video Poker
Joker Poker and Jacks or Better can be played with 1, 3, 10, and 52 hands per round. When you play multiple hands, the cards you choose to draw will be included in all your additional hands, but the new cards that replace the rejected ones will be unique for each hand. This increases volatility since you'll win extra big when you get a good draw. Keep in mind, there are usually a couple hands that offer marginally lower payouts in the multi-hand versions than what you get with the single hand version.
Consult Video Poker Charts
Often, there will be two or three different paths you can take with any given hand. Just like with blackjack, video poker strategy involves following a chart that tells you the best cards to keep for every hand—according to the math. It may be a drag to have to consult these charts in the beginning, but the more you play, the better you'll get at recognizing the best cards to keep.
You can begin your journey to video poker greatness by practicing everything mentioned in this guide on the games available in our casino. You now know the different types of video poker games available, how they work, how to read paytables, the probabilities of the standard winning hands and some valuable insight on maximizing your returns. Make the most of this newfound knowledge by playing online video poker for real money today.