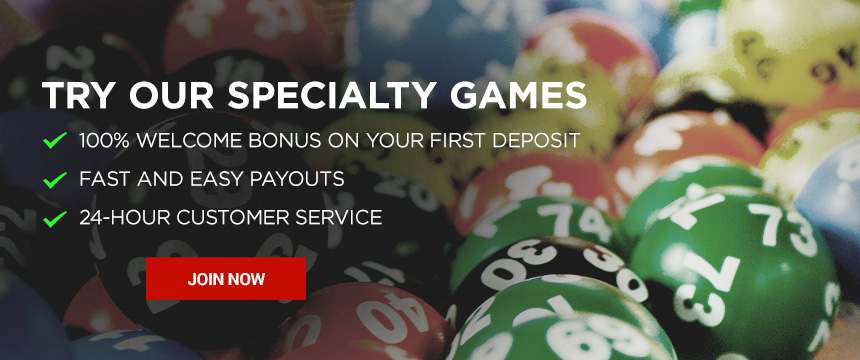 If you've ever played a round of Keno at a neighbourhood pub, or picked up scratch cards at your local convenience store, you've already dabbled in specialty games guide. Basically, any game that isn't a slot, table game, or video poker, is part of this unique classification of casino games, which also includes Bingo and Sudoku.
All of our online casino specialty games can be played for real money payouts using Real Play mode, and for free using Practice Play mode. These formats make it easy to test a variety of games before investing in the ones you like the most. To give you an idea of the different experiences that each game offers, we've compiled this Specialty Games information page. On it, you'll find out why these games are so popular and how the jackpots work. We'll also leave you with some parting advice on basic specialty games guides to increase your odds of winning. At the end of the day, specialty games are based on luck, but there are a few things to keep in mind in terms of game selection and betting configurations.
Why are Specialty Games so Popular?
When time is limited, nothing compares to the quick thrill that specialty games provide. Even bingo, which is typically slow-going at bingo halls, is fired at a rapid pace when played online. When you switch to online versions of your favourite specialty games, you're no longer waiting on anyone to get started, so you control the pace of play. Some of our games even offer different speeds, such as Slow, Normal and Turbo.
Another reason these online casino games are so popular is that they don't require a lot of focus or energy to play them. People looking to unwind after a hectic day or simply play a quick round of a casino game on the go, can do so without having to learn rules or implement strategy. Most people already know how to play bingo, keno and scratch cards, and the online versions are just as intuitive as the physical ones.
Our specialty games are especially popular in our mobile casino. At any point, you can pull out your smartphone and play a quick round of Keno or Bingo in hopes of striking a lucky payday. You don't need to go to the store to grab a scratch card—simply play any of our web-based ones; there's no need to download anything.
Most Popular Online Specialty Games
Bingo was first introduced in North America at a carnival in 1929, and not long after, it rose in the ranks of specialty game popularity. As a result of its own success, bingo branched into different variations, each with its own fanbase. You may be most familiar with American Bingo, which uses a 5X5 grid on a card and has numbers that are paired with the letters B,I,N,G,O. But this is just one of the 11 versions of bingo we have available for real money or free play in the Specialty Games section of our casino. Experiment with new ways of playing online bingo by trying European Bingo, or our themed bingo games that take you all over South America.
Keno is another popular specialty game with its own unique following. Unlike bingo, Keno lets you pick your own numbers from a range of 1 to 80. You can even record them in Keno Draw, and simply click "My Numbers" to populate them on the board. People with lucky numbers typically gravitate to Keno.
How are the Jackpots Calculated?
For a chance to win a massive jackpot, head over to our themed bingo games. Half of these come with a progressive jackpot that is triggered by winning bingo within a certain number of balls being drawn. The amounts advertised in the jackpots are usually very specific—for example, it could be $27,650.64. That's because the jackpots are funded by a percentage of incoming bets placed on that particular version of bingo. The more people play that version of bingo, the bigger the jackpot grows.
In order to be eligible for the jackpots, you need to play with four cards per round, and each card needs a minimum of $1 wagered for a total of $4 bet per round—minimum. Details outlining how the jackpot is triggered can be found in the rules page which is accessed through the game menu.
The following three bingo games have a progressive jackpot included:
Real Money Online Specialty Games You Can Play
Real money specialty games can be played from the comfort of your home using our online virtual casino. We don't have the space limitations of a traditional brick-and-mortar casino, so it's easier for us to offer a bigger game selection. The following games can be played right now, and we're always adding more:
Bingo Games
There are many different ways to play bingo, but they all follow the same basic premise. You purchase cards with a grid of numbers that have been pulled from a wider range of numbers. Winning numbers will be drawn from the range, and any winning numbers you have on your card are "hits." Get enough hits to complete a winning pattern, and you win a payout. There are 11 ways to play bingo in our casino, including traditional bingo games and non-traditional ones. The non-traditional themed-bingo, which are the final six games in the list below, offer bonus features, including the ability to draw additional numbers at a cost, and bonus rounds for extra cash.
Similarities exist between Keno and Bingo, but Keno doesn't use prepopulated cards. Instead, you get to use your discretion to choose up to 15 numbers from 1 to 80. When the game begins, 20 numbers are randomly drawn, and if you land enough hits (as outlined in the paytable), you get paid. There are two ways to play Keno in our casino:
• Keno Draw (best for smartphones)
• Keno
Scratch Cards
A scratch card has six to eight icons concealed under a top layer that needs to be "scratched away" for a full reveal. Matching icons trigger the wins listed on the paytable that pops up beside the game screen. There are eight themed scratch cards available in our casino:
Numbers are front and centre in our casino specialty games version of Sudoku, which is a Rival Gaming product. On a 3X3 grid, a random assortment of numbers 1 to 9 will land, and if you get matches, you win standard payouts. Landing numbers 1-9 on all nine spaces lead to big jackpots—just be sure to bet five coins to be eligible for them.
Strategies and Tips
Although there's no way to influence the outcome of a specialty game, there are ways to make sure you're picking the best ones. Follow our tips to maximize your specialty game profits.
Bingo Jackpots
There are two types of bingo players: the ones who are playing for the win, and the ones who are playing for the entertainment. If winning is more important than picking an appealing theme, compare the progressive jackpots in Bingo Goal, Amazonia Bingo and Bingo Ribeirinhos. They all have the same bonus features, so going with the bingo that has the biggest jackpot increases your theoretical return to player (RTP).
Scratch Card Payouts
Comparing scratch card paytables is a must before purchase. If they all cost the same, it makes sense to buy the ones that have the highest returns. In our casino, that would be Penguin Payday, which has payouts that multiply your stake by up to 80X.
Sudoku Eligibility Requirements
There are two different classifications of payouts in Sudoku: payouts for landing matching symbols and payouts for landing all nine digits. The latter comprises the game's jackpot payouts, which is 500 coins for landing all nine digits in any order, and 50,000 coins for landing all nine digits in sequential order (1-2-3-4-5-6-7-8-9). However, the jackpots are only active when you wager five coins per spin. You can always decrease your coin denomination to be able to bet five coins without going over your bankroll budget. Coins range from $0.01 to $2.
Online casino specialty games provide the variation in gameplay needed to keep things fresh—especially if you tend to play the same games over and over. They engage you in ways that slots, dice games, video poker and tables games don't. Next time you get the urge to play something short and sweet, consider a round of bingo or keno, or simply pick up a digital scratch card—a real money payout could be on the horizon.