What are my different balances?
An important part of playing at Bodog is keeping track of your bankroll. You'll want to know how your funds are being used, from which balances and how much you can cash out once you hit it big!
At any given time, depending on your activity, you may have multiple active balances in your account, to take a look at these balances, click the profile icon at the top of any page.

Once in your Dashboard, you'll see your name, Rewards Tier Level and the number of Rewards Points you've earned along with their current value. Below these details, you'll see one or all of the following balances active on your account.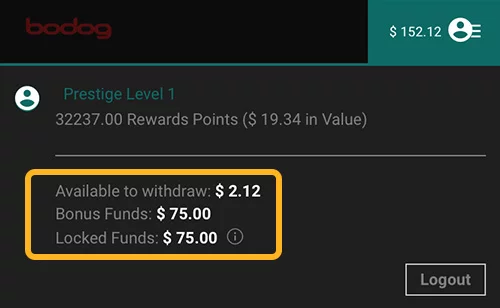 Available to Withdraw
This balance indicates how much you're able to withdraw at any time. It includes deposits made without redeeming a bonus, winnings earned using funds from this balance, and bonus funds that have been released from your Bonus Funds balance(s).
Bonus Funds
This refers to funds issued to your account from a redeemed a cash or match bonus. Winnings earned using bonus funds, that have not yet been released, will also be returned here.
Locked Funds
A balance here includes deposited funds attached to a Deposit Bonus and any winnings earned using funds from this balance. Locked funds will be released to your withdrawable balance (Available to withdraw) as you continue to wager and meet the play-through requirements on your bonus(es).
Locked Bonus Funds
Refers to bonuses that you've redeemed that are released to your withdrawable balance as you achieve certain milestones. Funds in this balance are not immediately available for play but rather are released over time as you play.
Did you find what you were looking for?