Deposit with Bitcoin

BODOG'S BITCOIN CASINO
Bodog offers you the option to use Bitcoin and Bitcoin Cash. We'll show you how to get going on the best way to enjoy Bodog's biggest bonuses yet.
To begin with, if you don't already have a Bitcoin wallet, visit here to learn how to get started on the best way to play at Bodog.
BENEFITS OF DEPOSITING WITH BITCOIN AT BODOG
Withdrawals and deposits with Bitcoin are fast and guaranteed. Need we say more?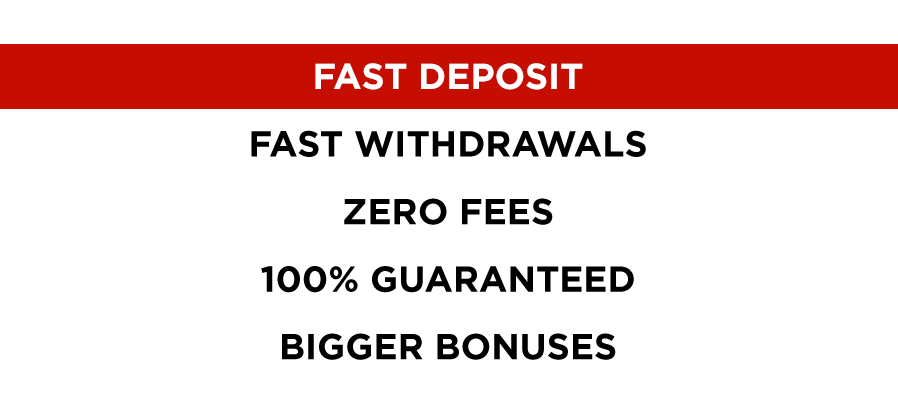 GET YOUR ACCOUNT LOADED QUICKLY
When you deposit with Bitcoin, your funds are automatically and immediately exchanged into Canadian Dollars. In 99% of cases that means your cash is available for play within 60 seconds. In the rare instance where there is network congestion, it could take up to 15 minutes.
FASTER CASH IN YOUR POCKET
Cryptocurrency is the quickest way to deposit or withdraw at Bodog. Within 15 minutes your funds are processed and deducted from your account. Requesting a check by courier, however can take 10-15 business days.
LOWER FEES THAN CREDIT CARDS
At Bodog, we don't charge any fees when you deposit using Bitcoin or Bitcoin Cash.
There is a network (miner) fee, and there can be a fee when transferring out of an exchange. But these are much lower than fees incurred when depositing with a credit card.
AVOID CREDIT CARD RESTRICTIONS WHEN MAKING A DEPOSIT
Bitcoin deposits at Bodog have a 100% success rate. This mean your funds will land in your account every single time, guaranteed. Some credit card companies place restrictions which can impact your ability to deposit and start playing, but Bitcoin and Bitcoin Cash transactions will always be successful.
BITCOIN AT BODOG MEANS BIGGER BONUSES FOR YOU
When you deposit with Bitcoin or Bitcoin Cash with Bodog for the first time you'll be able to take advantage of some big welcome bonuses.
Now's your chance to pocket a 100% Bitcoin Match bonus up to $300 to bet on sports and a 150% Bitcoin Match Bonus up to $900 to play in our casino.
HOW TO DEPOSIT AT BODOG USING BITCOIN AND BITCOIN CASH
Depositing with Bitcoin so you can play at Bodog's Bitcoin Casino is easy. Just follow this three step guide.
STEP 1:

CREATE YOUR FREE BODOG ACCOUNT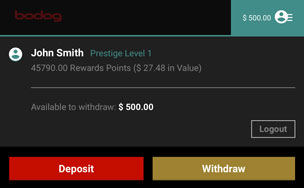 Once you've signed up for your free account at Bodog, click the icon at the top of the page.
STEP 2:

SELECT BITCOIN OR BITCOIN CASH AS YOUR DEPOSIT METHOD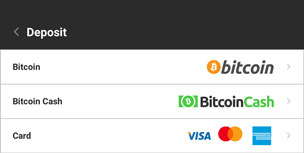 When you click the icon, click Deposit to open the cashier. Choose Bitcoin or Bitcoin Cash as your deposit method.
STEP 3:

MAKE YOUR DEPOSIT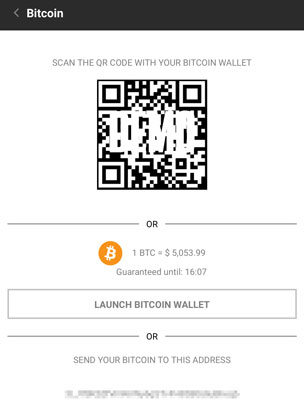 A Bitcoin address will now be generated. You now have two options:
a) Using your smartphone wallet app, scan the newly generated QR Code.
b) If using a desktop, launch your bitcoin wallet. Alternatively, you can click the Bitcoin address link to auto-populate an invoice, if available.
Click 'Done' and your deposit will reflect in your balance.
Your Bitcoin is now in Canadian Dollars in your account and you're ready to play at Bodog.
Note that we recommend transferring funds to a personal wallet first before depositing on Bodog. This helps ensure your usage remains anonymous.
FREQUENTLY ASKED QUESTIONS
It's an easy three-step process:
Log into or create a Bodog account.
Redeem one of the crypto bonus codes while you make a Bitcoin or Bitcoin Cash deposit.
Instantly collect on your Bitcoin deposit, up to a total of $300 for sports or $900 for the casino.
Get started by making a Bitcoin deposit or Bitcoin Cash deposit at Bodog today and get into the game.
Bitcoin Cash (BCH) has the lowest overall transaction fee attached to it, so for that reason we recommend depositing with that. However, Bitcoin (BTC) is also a great way of quickly depositing funds into your account, and we plan on accepting other cryptocurrencies in the future.
So your deposit is as easy, quick and low-cost as possible.
Credit card providers may block or restrict your deposit, but your cryptocurrency deposit will never get blocked. This means you can guarantee your funds land in your account and you can start playing your favorite games.
| DEPOSIT LIMITS (per transaction) | WITHDRAWAL LIMITS (every 72 hours after approval) |
| --- | --- |
| Minimum: $10 | Minimum: $10 |
| Maximum: $2,500 | Maximum (New PLayers): $2,500 |
| Maximum: $2,500 | Maximum (VIP's): $9,500 |
We will not charge you any fees when crypto payments are processed. Most Bitcoin Exchanges will apply a small transaction fee on their end (usually less than $1).
If you want to send cryptocurrency with the lowest transaction fees possible, we recommend using Bitcoin Cash (BCH)