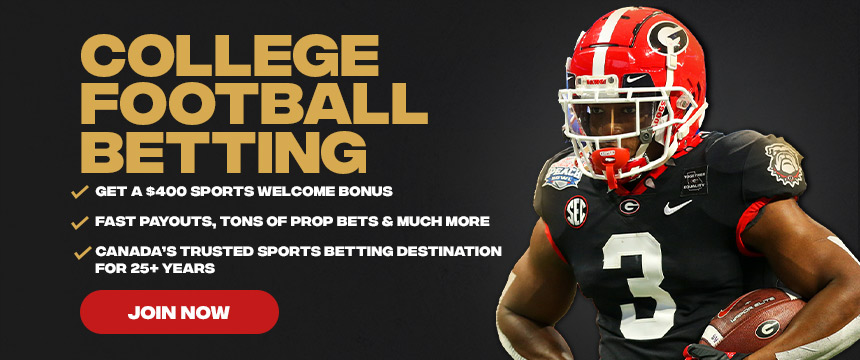 College Football Odds
While NFL betting gets most of the attention with Bodog bettors, college football betting is up there in terms of popularity.
It isn't difficult to see why. But before we dig deeper into how to bet on college football, let's take a look at the history of a proud sport and some of its stars.
GET YOUR $400 SPORTS WELCOME BONUS
History Of College Football Betting
Given that the first college football game ever played was all the way back in 1869, it is safe to assume that college football betting has been around for just as long (although perhaps not officially). Rutgers beat Princeton in that first ever encounter, 6-4 with a soccer-shaped ball would you believe?
Initially, 25 players from each team took to the field at the same time and the pitches used were considerably bigger than today. It wasn't until 1876 that the crossbar for the kickers was introduced, and the dimensions remain the same today.
As the 1800s rolled into the 1900s college football was becoming big time and it was in fact Harvard who become the first school to introduce a stadium for the sport in the same design that sees thousands of fans watch their friends and heroes over a century later.
The forward pass wasn't initially a legal play in football, and its introduction in 1906 saw the sport become even more popular. Points scoring was altered, field goals were introduced and before long, we had the game that millions around the globe love today.
Now that we have looked into a very brief history of how college football was formed, let's rank the most famous and successful teams in college football history.
Best College Football Teams
Everyone has their own opinion on who is the best college football team, which is what makes our NCAA football odds so appealing, as the Super Bowl odds do as well. However, given that there have been so many different selectors over the years, we will stick with the most successful sides of the 21st century.
Alabama
Alabama may not have always been the hottest property when it comes to college football odds, but you can be sure to see them sitting pretty near the top of the odds board most years. Since the turn of the millennium, no college has won more national championship titles than their six at the time of writing.
Best of the Rest
In fact, such has been Alabama's recent dominance, it is difficult to pin down who has been their closest rival. Oklahoma won the first championship of the 2000s, while LSU, Florida, Florida State, Ohio State and Clemson have all won two each.
Most Famous College Football Players
While it is difficult to agree on the greatest college football teams of all time, given the change in rules and regulations down the years, it is much more straight forward to discuss the greatest players.
In any era, the likes of Tony Dorestt, Barry Sanders, Archie Griffin, Bo Jackson and Doak Walker would have dominated the college football odds boards, but one name truly does spring to mind...
Herschel Walker of Georgia. It is no coincidence that the Bulldogs won the national championship in 1980 – the year he burst onto the scene. Walker was that good, he managed to skip his senior season to turn professional, and would certainly have won multiple Heismans had he stuck around.
Memorable College Football Moments
Sport has a wonderful way of bringing people together, and college football is no different. For instance, in 1963, the army and navy teams pulled together to play on in front of 102,000 in the aftermath of JFK's assassination. If you haven't seen footage, it is definitely worth a watch.
In 1994, the 'Miracle at Michigan' saw Colorado turn around a 26-14 deficit heading into the final quarter with a ridiculous hail mary pass by QB Kordell Stewart with six seconds left on the clock. Ten years before then, the wonderful Doug Flutie threw his very own 'Hail Flutie' to claw back a 45-41 scoreline with moments to spare.
Best College Football Bets: How To Bet On College Football
Bodog Sportsbook is the place for Canadians to head to for their fix of college football betting. You don't celebrate three decades of betting greatness without knowing what you're talking about, so stick with us – you won't go wrong.
You can bet on the moneyline, NCAA football spreads, picks and parlays NCAAF, sacks and so much more. The similarities between NFL betting and college football betting are undeniable in that sense.
Before the season begins, or even while it is in full flow, you can prolong your betting fun with our college football futures betting. On top of that, there is teaser betting, parlay betting, round robin betting and point spread betting.
There is something for everyone at Bodog when it comes to your college football odds. But don't just take our word for it, head on over to our football section and find out for yourself.
College Football Betting FAQs
Can You Place Props Bets On College Football?
Absolutely! Prop betting is huge across most sports at Bodog, particularly football. Prop betting involves placing a bet on anything surrounding the game in question that doesn't involve the final result. The options available to you are plentiful.
How Do Spread Bets Work In College Football Betting?
Spread bets works in our college football odds in the same way that they do in any other sport. The stronger the favourite of any one team, the more they give up on the spread. As always, a minus sign means that the favourite is giving a head start to the opposition by that amount, while a plus sign means that the team in question has that points lead before kick off.
Should You Always Bet On The Favourite?
No, you shouldn't always bet on the favourite in college football – or any sport for that matter. However, they are the favourites for a reason. The favourite may have better players, home advantage, be in better form, or their opposition is struggling with injuries. Having said all that, there is a time and a place for betting on the underdog, particularly with spread betting. Do your research, and make your own decisions based on that research.
How Often Does The Favourite Win In College Football?
It isn't an exact science, but favourites are favourites for a reason – they're usually a better team. The interesting data comes with betting against the spread. Take the 2021 season, the favourite covered the spread 51.16% of the time – so it's pretty close.
What Is The Moneyline In College Football?
The moneyline works exactly the same way in college football as it does in the NFL. You're basically backing a team to win.
College Football Betting With Crypto
College football betting provides something a little bit different to the NFL. However, some things should stay the same, and we believe the option for crypto betting is one of them. You can use an array of coins, with quicker payouts and better bonuses.