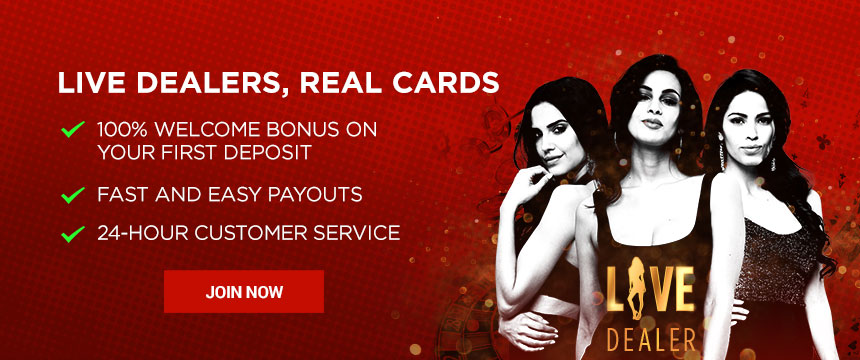 If you prefer the experience of a live casino but like the convenience of an online one, our Live Dealer games offer the best of both worlds. Unlike with virtual casino games, Live Dealer games have real people dealing the cards in online casinos; you can chat with them, and other players, just as you would in a brick-and-mortar casino. On top of that, there's no Random Number Generating technology dictating your fate—just the same physical wheels, dice and cards that you'd find in a land-based casino making it the best experience ever!
If this hybrid between online and land-based casino gaming appeals to you, Bodog Online Casino is the best site to try it out. In this comprehensive online guide, you'll find out exactly how Live Dealer casino games work and what games you can play online. Chances are your favorite table games are available and ready to play.
A Live Dealer casino game takes place at a studio where professional dealers are stationed at game tables. They run the game while being filmed on a live stream, which can be viewed on our website by our players. Your game screen shows the live feed and also has the buttons needed to place bets. Everything is done in real-time, so it feels as natural as a live-casino experience—only, you get to play online from the comfort of home.
In our casino, we have six different table games with Live Dealers, and each type of game has several different dealers to choose from. Try to play Live Dealer Blackjack with an early payout, or standard Blackjack with six decks. In our Live Dealer versions, you can keep an eye out for players experiencing a hot streak and back-bet them to capitalize on their efforts in the Casino.
Those looking to play Live Dealer Roulette will appreciate the option to play American and European versions. Choose your preferred version of the game; each has three different table limits: $1-$300, $5-$1,500 and $10-$3,000.
For a straightforward card game, play Live Dealer Baccarat or Super 6. Casino game purists will appreciate the classic Baccarat version on the site, while those looking for a twist may like the side bets that are available when you play Live Dealer Super 6.
We have two forms of Live Dealer Blackjack in our online Casino: one with an early payout option and one without it. The early payout option lets you muck your hand at any point in the round in exchange for an early payout. The pay varies and depends on how likely you were to win during your play. When you play the other version of Blackjack, you can surrender as a first move, but not after hitting, splitting, or doubling. This classic version is played with six decks and has the Dealer hit on soft 17.
Choose between two different flavours of Roulette: American and European. The American version comes with the green double-zero (00), while the European has just the single zero (0). Different Live Dealers work each wheel.
Baccarat is well suited to the Live Dealer experience, as the Dealer completes all the action in the game, leaving you free to enjoy the social aspect of it. If you're new to Baccarat, all you need to do is decide what to bet on: Player, Banker, or a tie between them. The Dealer will distribute two or three cards to each side, and whoever gets a score closer to 9 points wins. A third card is sometimes distributed and is based on "house rules" that can be found in the game menu.
Super 6 is one of the best versions of Baccarat as it offers popular side bets in addition to the primary bets. As a form of insurance, you can bet that the Banker will win with a score of 6 for a 12:1 payout by using the classic Super 6 bet. You can also bet on the Dragon Bonus side bet that either the Player or Banker will land a "natural" (9 points upon the first deal), or win by at least 4 points. For the latter, you get paid based on how wide the margin of victory is, with the biggest margin paying 30:1.