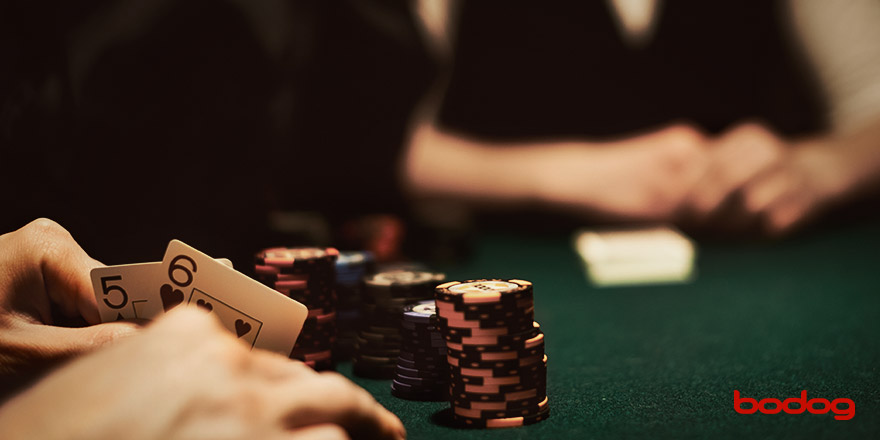 How to Get Started Playing at Bodog Poker
Bodog Poker is one of the most famous online poker rooms in the world. Here's how you can start playing at Bodog today.
Getting Started with Playing Poker at Bodog
It's been well over 20 years since Bodog took over the online gaming world. A lot has happened since then, but if you live in Canada or just about anywhere in South America, Bodog is still the best place to play online poker for real money. It only takes a moment get started; here's how you can get a piece of the action at Bodog Poker.
Who We Are, and Why You Should Play Poker at Bodog
Bodog Poker first launched in 2004, making it one of the oldest and most trusted online poker rooms in the business. Nobody can match Bodog's winning combination of quality software, fast and secure payouts, and the third-largest player pool in the world via the PaiWangLuo Network. Whether you're a professional or recreational player, whether it's cash games or poker tournaments you're looking for, there's always a table waiting for you at Bodog Poker.
Bodog Top Poker Features
All those years of experience have given us the chance to create one of the best poker clients you'll find anywhere.
Here's a list of the special features you can expect when you start playing poker at Bodog:
Mobile Poker
Quick Seat
Online Chat
Zone Poker
Anonymous Tables
All-In Percentage
Customized Card/Table Designs
Multiple Language Support
Card Animations
Hand History Downloads and Viewer
Instant Heads-Up Rematch
Multi-Tabling
Player Notes
Rabbit Cam
In-Software Casino Games
Real Money Online Poker Tournaments
Nobody can hold a candle to Bodog's impressive tournament schedule. There's $1.5 million in prize money available every week, including the six figures up for grabs at the $100K Guaranteed – one of the biggest Sunday majors in the industry. You'll also find special daily and monthly tournaments on the Bodog calendar, leading up to the incredibly popular Black Diamond Poker Open (BDPO) and Golden Spade Poker Open (GSPO) festivals.
Bodog's Guide on How to Play Online Poker
If you're just getting started at online poker, or even if you've been around the block a few times, it's important to keep up with the latest poker strategy tips and tricks. Bodog Poker is proud to present our comprehensive guide for how to play online poker; we cover all the essentials that beginners need to know, and we go in-depth on topics that should interest players at the intermediate and advanced level.
Learning these strategies is an absolute must if you want to figure out how to play poker. We'll show you why Doyle Brunson was right when he said that "power poker" was the key to victory. We'll help you sort out which hole cards are worth opening in Texas Hold'em, Omaha and Omaha Hi/Lo. We even have articles on topics like bankroll management, game selection, and tilt control. This is easily one of the best free resources for poker strategy anywhere on the web.
Online Poker Bonuses and Promotions
When you sign up at Bodog Poker, you'll have access to a generous package of bonuses and promotions – starting with the 100% Poker Sign Up Bonus, where you can earn up to $1,000 just by playing poker. If you're playing at the cash tables, you can qualify for the Royal Flush Bonus and the Bad Beat Bonus, giving you two more ways to earn free money at the tables. Make sure to collect on these and all the other bonuses waiting for you at Bodog.
Getting Started with Online Poker
Signing up at Bodog Poker is easy, and it's free: Just fill out the one-page online application form to set up your account. Then download the poker client (also free) if you'll be playing on a desktop. You can skip this second step if you'll be playing on a mobile device – all you have to do to is log in directly to the Bovada Poker web app, which has almost all the functionality of the desktop client. Players who want to focus on poker tournaments will need their desktops to access the full schedule of events.
Of course, if you want to play real money poker at Bodog, you'll eventually need to make your first deposit. Depending on where you live, you can use Visa/MasterCard, Interac e-Transfer, and/or Bitcoin to deposit funds into your account. Bitcoin will give you the quickest turnaround times on your transactions, with no added fees attached. But before you deposit, we recommend you take the time to get familiar with the poker lobby, and try some Play Money games to make sure you're happy with the product. Every new account receives 1,000 Play Money chips; anytime you dip below 500 chips, you can add 1,000 more – all for free.
How much money should you deposit? That depends in part on the games you want to play. Texas Hold'em, Omaha and Omaha Hi/Lo are all available at Bodog Poker, and the games feature three different betting structures: Fixed-Limit, Pot-Limit and No-Limit. You'll want to deposit enough money to play your preferred game at the stakes you choose, and enough to get the most out of your welcome bonus. But as always, never play poker with money you can't afford to lose, and if you want to grow your bankroll optimally, see our articles on bankroll management for more information.
Poker FAQ
If you have any questions that have yet to be answered in this guide, or you want to find out what your fellow players are asking, consult our Frequently Asked Questions page to learn more about Bodog Poker. Among other topics, we explain the basic rules for Hold'em, Omaha and Omaha Hi/Lo, how each of the three betting structures works, and some of the finer points of poker etiquette that you should know about.
Still need help? Bodog's industry-leading Customer Service desk is available 24/7 to take care of your needs. Otherwise, you now have all the information you need to start playing at Bodog Poker. Let's get those cards in the air.