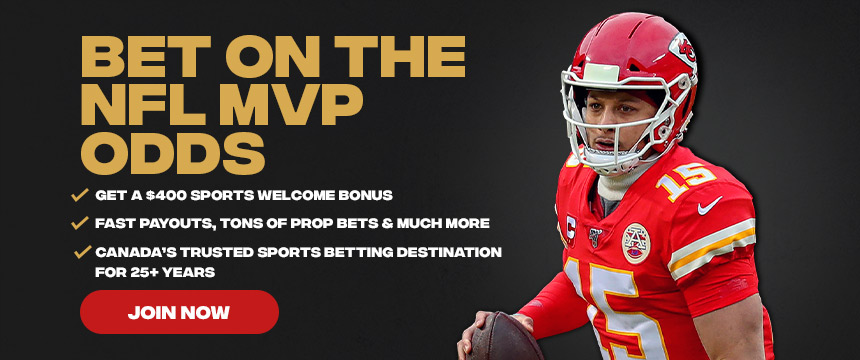 NFL MVP Odds
In a sport where all roads lead to the Super Bowl winners, Bodog's NFL MVP odds provide a fresh slant on football betting.
Our NFL lines include an array of futures, parlays, props and more, but NFL MVP betting is different – it's all about one man.
For what seems an entire generation, Tom Brady has been the favourite to win the MVP award, but father time waits for no man, and the younger brigade have finally caught up.
Before we look into the players to have dominated the NFL MVP odds in years gone by, let's take a look at exactly what an MVP bet is and how it works.
What Are MVP Bets?
In all sports, MVP bets and their potential winners tend to have to tick a certain number of criteria boxes.
If the answer to the below three questions are "yes", then a certain player stands a reasonably good chance of coming out on top in the eventual NFL MVP odds:
Do they play at quarterback?
Do they stand a good chance of reaching the Super Bowl (or at least the Playoffs)?
Are they going to be a key contributing factor to their team reaching the Super Bowl of Playoffs?
If the above three boxes are ticked, you've got yourself a serious contender in the NFL MVP betting, and there's a good chance this player will be regularly involved in the top end of our NFL odds.
Oh, we almost forgot, for those of you who don't actually know what MVP stands for, it's simple – Most Valuable Player.
Simply put, the person to be voted as the most influential player in the league over the course of a season is named as the NFL MVP winner, and anyone who bet on that player to lift the award can cash in.
How Do NFL MVP Bets Work?
Your best time to place an NFL MVP bet is at the start of the season. This is when all the odds for the upcoming season, including the NFL lines, MVP winner, Super Bowl champions and so much more tend to be at their best price.
The second a ball is kicked, the odds are open to fluctuation based on performance, injury and results. This can work in both ways, if a player begins the season in scintillating form then their MVP odds will likely shorten. On the flip side, if your chosen player in our NFL MVP odds has a slow start to the season, the odds will increase. Sure, this isn't great news if you have already placed your bet, but if you've been holding off to see how the early season plays out, this can provide great value. Remember, it's a long and gruelling season.
Once your mind is made up, head on over to our NFL MVP odds board and pick your player to outshine the rest.
Who Are The Players With The Most NFL MVPs?
Only nine players have ever been named as NFL MVP on more than once occasion, and it might surprise you to learn that two players have won more than Mr Brady himself.
Kurt Warner and Steve Young has been crowned MVP twice before, with Joe Montana winning his two awards in back-to-back years by following up his 1989 gong with a repeat in 1990.
The below players have all won three or more, which is quite an achievement when you take into consideration the quality of player in the NFL season after season.
Johnny Unitas
The late Johnny Unitas sadly passed away in 2002, but set plenty of records during his playing days for the Baltimore Colts. He was named as MVP in 1959, 1964 and 1967, and led the Colts to four championship titles.
"Golden Arm" was a standout performer in the 1958 season, and shone during "The Greatest Game Ever Played" as the Colts beat the New York Giants 23-17 in sudden death overtime.
Jim Brown
Jim Brown won back-to-back MVP trophies in 1957 and 1958, before making it a trio in 1965. However, his one NFL Championship title came in 1964 with the Cleveland Browns, proof that you don't have to be crowned champions to be named as MVP.
One year on from winning the last of his MBP awards, Brown retired after becoming the first NFL player to rush for over 10,000 yards.
Brett Favre
To this day, Brett Favre remains the only player in NFL history to manage an MVP three-peat in that he won his three MVP trophies in consecutive years.
After leading the Green Bay Packers to their best record (11-5) in 30 years in 1995, Favre battled back from injury and scandal to win his second MVP award in 1996 as the Packers romped to Super Bowl glory.
He would guide Green Bay to the Super Bowl again in 1997 and in doing so earned his third consecutive MVP trophy, although the Packers would go down to the Denver Broncos in what was seen as one of the biggest upsets in Bowl history.
Tom Brady
Is he the greatest NFL player of all time? It would take a brave man to argue against him. It is quite astonishing that a man who has delivered seven Super Bowls has only been named as MVP on three occasions, but to claim your third MVP award a full decade after your first goes to show how dominant he was.
No player has won more than Brady's seven Super Bowl titles, and he can boast of five Super Bowl MVP awards (another record).
After dominating for almost 20 years with the New England Patriots, Brady moved to the Tampa Bay Buccaneers and changed their fortunes for the better. He truly is NFL royalty.
Aaron Rodgers
He perhaps doesn't boast the same star quality of Brady, but Aaron Rodgers is every bit an NFL legend – you don't win four NFL MVP awards across the space of a decade if you aren't something very special.
Once again earning his reputation at the Green Bay Packers, Rodgers holds the record for the most consecutive seasons with a passer rate of over 100 (six: 2009-14).
Perhaps the fact that Rodgers has only won one Super Bowl works against him, but his name belongs in any discussion when discussing football's GOAT.
Peyton Manning
Speaking of the GOAT, football fans of a certain age would probably argue that Peyton Manning – and not Tom Brady – is the greatest player to ever step foot on the turf.
Five NFL MVP awards, with two different teams, would certainly back up such claims. Three of Manning's five awards would come after Brady's first, so he was still dominating even when his "successor" came to town.
Once again, perhaps only managing two Super Bowl titles works against him, but winning the championship with two different teams has to count for something. He backed up his 2006 victory with the Indianapolis Colts by winning a second Super Bowl with the Denver Broncos in 2015 before announcing his retirement. Talk about going out with a bang.
NFL MVP Betting With Crypto
Like all betting at Bodog Sportsbook, crypto betting is the way to go. It isn't just bitcoin betting that you should focus on either, you can use an array of cryptocurrencies such as Litecoin, Ethereum, USD Tether and more. Simply load up that crypto wallet, pick your NFL MVP winner, and come and have your say.
NFL MVP Odds FAQs
Has A Defensive Player Ever Won NFL MVP?
Yes, but it is a rarity. Remember our three key boxes to tick that included being a quarterback? It is difficult for a defensive player to win the NFL MVP. However, Giants' linebacker Lawrence Taylor last managed it in 1986, some 15 years after Alan Page became the first to do it.
Has A Rookie Ever Won NFL MVP?
To this day, Jim Brown is the only rookie to do so – we wonder what his NFL MVP odds would have been?
Who Is The Oldest Player To Win NFL MVP?
That man Peyton Manning currently holds this particular record. At pushing 38 years of age, it may take a while until we see this record beaten.
Has An NFL MVP Ever Not Made The Playoffs?
At the time of writing, only Unitas and O.J. Simpson have been crowned regular season NFL MVP kings and not made the playoffs. A standout season tends to result in an appearance in the post-season, and it certainly makes for better viewing.
Why Do Quarterback Always Win MVP?
Simply put, the reason is down to numbers. Quarterbacks are the stars of the show, they provide the entertainment and the touchdown camera moments. It is the same reason as to why they are usually paid the most.
Do Playoffs Impact NFL MVP?
The NFL MVP award is decided by performance throughout the regular season, with the Super Bowl MVP award being decided by performance during the game itself.