Help
New Site FAQs
Sports FAQ
Casino FAQ
Poker FAQ
Horses FAQ
Bitcoin FAQ
Financial FAQ
Bonuses FAQ
General FAQ
Refer A Friend
How is my withdrawal determined?
Morning line (ML) odds are posted for each horse in any given race. Morning line odds are informational only and aren't used to calculate payouts. They are simply an indication of how the handicapper thinks the public will bet. Reviewing them will give you a better understanding of the contenders. Using the figure below as an example, the oddsmaker predicts that the #5 horse will be the favourite (lowest odds) while the #7 horse is clearly a long shot (high odds).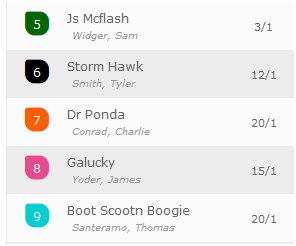 When betting on horses, your payout is however, based on the final odds, which may bear no relationship at all to the morning line odds. This form of wagering is called "parimutuel betting" and is used at all major tracks in the United States.
With parimutuel betting, you are wagering against other bettors at live odds that are determined by the amount of money bet on each horse in each betting category- win, place, show, exacta and so on. Since live odds fluctuate whenever money comes in, we do not show them in the time leading up to the race.
As soon as the race results have been declared official and the track has deducted a share from the pool to cover expenses and profit (the "take"), the final odds are calculated. Bettors with winning tickets are paid proportionally based on those odds.
Finding Payout Information
Payout information is included in the race results (to find the race results, click 'RESULTS' beside the race you have bet on, as shown in the figure below).

The results show the horses that ran, the numbers of any horses for which a refund will be granted, and the payout, which includes both your stake and winning amount for each type of bet offered on the selected race. As shown below, the win/place/show payouts are based on a $2 bet, while all other payouts are based on a $2 bet. You can calculate your payout using this information. For example, if you placed a $4 place bet on the # 3 horse, your payout will be $14.40.
Your payout amount will appear in your cash statement as soon as we receive confirmed results and payout information, which is normally 10 to 25 minutes after a race has been run.
Related Topics:


Stake & Withdrawal Limits
How is the cost of my bet calculated?
Do you pay full track odds?
What are the horse betting limits?