Help Home
Sports
Casino
Live Dealer
Poker
Horses
Bitcoin
Financial
Bonuses
Account and Security
Video Library
Refer A Friend
How do I reset my 4-digit PIN?
When you take certain actions on your account, you may be required to confirm your 4-Digit PIN before proceeding. These include, but are not limited to:
Requesting a withdrawal
Contacting our Customer Service Team
Updating profile information (eg. your email or home address)
If you forgot your 4-Digit PIN, you can easily reset it, just follow the steps below:
1. In the verification window, you will see a 'Forgot Your PIN?' prompt, whenever PIN verification is required.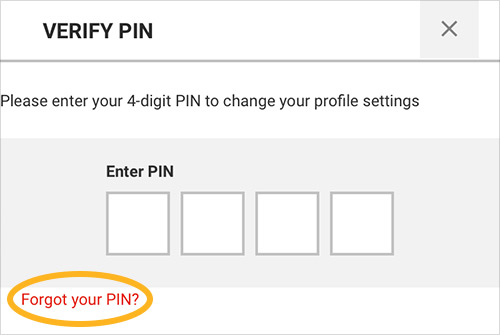 2. Clicking the link will send an email to the address you've registered to your account.

3. Once you receive the email, click the link provided and you'll be asked to enter a NEW 4-Digit PIN.
And that's it – 3 easy steps and you'll have a new PIN in no time at all.
NOTE: You will have five attempts to remember your PIN. Failure to enter the correct PIN may result in that action being restricted on your account for a period of 24 hours, from the time of the last failed attempt. A notification will appear with each attempt, indicating how many chances you have left to enter the correct PIN.
If a restriction is applied to your account, our agents can't remove it so rest your PIN before that happens.
Did you find what you were looking for?