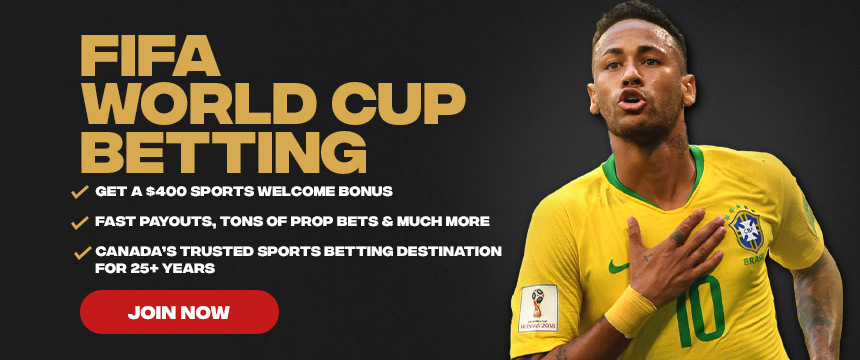 FIFA World Cup Odds
Every four years, the world turns its attention to the most popular tournament of them all: the FIFA World Cup. One billion people will be watching the Final – give or take a few million – to see who takes home the iconic FIFA World Cup Trophy, the same one that's been held aloft by Maradona, Ronaldo and Miroslav Klose.

With so many people getting involved, FIFA World Cup odds are always one of the top attractions here at Bodog Sportsbook. You don't even have to wait for the next World Cup to start; FIFA World Cup odds are on the board year round at Bodog. Here's a closer look at how soccer betting works, and how this whole thing came to be in the first place.
A Brief History of the FIFA World Cup
Soccer, or association football ("football" for short), has been around for centuries, but the World Cup is a relatively new invention. Following the success of the Olympic Games revival at the turn of the 20th Century, FIFA – that's the Fédération Internationale de Football Association, the sport's Paris-based governing body – wanted its own stand-alone tournament to crown the world champion.

FIFA finally made it happen in 1930 with the inaugural World Cup, which was held in Uruguay, the world's top soccer nation at the time. Travel wasn't as easy back then as it is now; only 13 teams showed up, seven of them from South America, and Uruguay had little trouble winning the tournament.

The next two World Cups had similar problems with travel, made worse by the rise of fascism that led to World War II and the cancellation of the 1942 and 1946 events. But from those humble beginnings arose the biggest thing in soccer, if not all of sports. The post-war boom saw a sharp rise in the number of countries participating, and the rapid expansion of the tournament in both size and stature.

That expansion continues to this day. Since 1998, the top 32 national teams (as determined through qualifying tournaments involving all 200+ current FIFA members, with the host nation getting a free pass) have been invited to the World Cup. That number will go up to 48 in 2026, when the hosting duties will be shared by Canada, Mexico and the United States.

For now, the 32 qualifying teams are split into eight groups of four, labelled from Group A to Group H. Then the tournament starts with the Group Stage, where each team will face the other three once, and the top two point-getters (three points for a win, one for a draw) will advance to the Knockout Stage.

This is where things get really heated. The Knockout Stage is a single-elimination playoff, starting with 16 teams and ending with the Final (a Third Place game is also played between the losing teams in the Semifinals). Whoever wins the Final will be crowned world champion and put their names in the record books alongside some of the greatest athletes of all time.
Top Teams and Famous Players
When people think of World Cup soccer, the first team most think of is probably Brazil. They've won five World Cups, more than any other team in history, and three of those Cups – 1958, 1962 and 1970 – featured the greatest player the game has ever known: Edson Arantes do Nascimento, or Pele for short.

Germany have also done very well for themselves on the global stage. They've won four World Cups, three of them as West Germany, and they've made household names out of players like Gerd Muller, Karl-Heinz Rummenigge, Franz Beckenbauer, and the aforementioned Miroslav Klose, the nation's all-time leading scorer.

Next in the World Cup pecking order are Italy, also with four championships to their name – but none since 2006. The Azzurri are almost always in the title hunt, and you can't talk about soccer history without including the likes of Roberto Baggio, Alessandro Del Piero, and one of the greatest goalkeepers who ever lived, Gianluigi Buffon.

Argentina are also big players at the national level, thanks to two incredibly popular players: Maradona and Lionel Messi. But they've only won the World Cup twice, and their last was in 1986, when Maradona's "Hand of God" goal against England in the quarterfinals helped lead them to victory.

France have two World Cups to their name as well, but theirs are much more recent: 1998 and 2018. This has become an incredibly strong national side over the past 30 years, and also one with a strong international flavour, featuring incredible athletes of African and Caribbean heritage like Patrick Vieira and Thierry Henry.

Uruguay might have a hard time making it back into the national spotlight, but they still have those two World Cups (the second coming in 1950), and those can never be taken away. That's one more than Spain, who finally won their first title in 2010, and one more than England – the birthplace of soccer. Their only trophy was on home soil way back in 1966, but you can always count on their fans to make World Cup football betting the busiest time of the year.
How to Bet on the FIFA World Cup
Betting on soccer is a lot like betting on American football – but different as well. You still have the same three "straight" bets at your disposal: spreads, moneylines and totals. But since it's a lot harder to score in soccer, the moneyline tends to take precedence over the spread.

That moneyline also looks a bit different. Many soccer matches end in draws, so in addition to betting on either team winning, you can bet on the draw, which is known as 1X2 betting. The X represents the draw and the numbers represent the two teams.

To illustrate how the FIFA World Cup betting odds work at Bodog Sportsbook, here's a recent international friendly between Albania and Estonia:
| | |
| --- | --- |
| Albania | –215 |
| Estonia | +625 |
| Draw | +290 |
The numbers you see at the right are the soccer odds for each possible outcome, shown using the American odds format (you can switch to fractional or decimal odds at your leisure). Here, the favoured Albanians would pay out $100 for every $215 wagered – smaller and larger bets are allowed. The underdog Estonians would play $625 for every $100 wagered.

Neither of those things happened. The match ended in a 0-0 draw, so if that was your pick, you were paid $290 for every $100 wagered. However, if you had Estonia +1 (–110) on the spread, that was a winning bet, since all they had to do to cover was not lose. A one-goal Estonia loss would have resulted in a push, all monies returned.

Because scoring is so limited in soccer, the total is often the most popular of the three straight bets. This is where you bet on the two teams combined to score Over or Under a predetermined number of goals. In our above example, the total was set at 2.5 with the Over priced at –110 and the Under at –120, so if you had the Under, you earned $100 for every $120 wagered.

There's plenty more to bet on when it comes to football. World Cup betting at Bodog Sportsbook includes a full list of props (short for "proposition bets") on teams and players, like whether a given team will register a clean sheet – zero goals allowed – or whether a given player will score during the match. Props are quickly becoming the most popular way to bet, as more and more people make the move from daily fantasy sports to actually betting on sports.

Then you have the World Cup futures market, where you can bet right now on which team will win the next tournament. These odds are usually available months, even years in advance, so if you want to get your World Cup bets down, now's your chance.
FIFA World Cup Odds FAQ
Q: What happens if the game goes to extra time/shootout?
A: Soccer matches at Bodog are graded at the end of 90 minutes plus stoppage time. Anything that happens afterward is ignored. The only exceptions are friendlies, which don't have to go the full 90 minutes to be graded.
Q: What if my match gets postponed?
A: As long as they play later on that day – or within 24 hours for the World Cup – the match will not be considered postponed. Otherwise, your wager is graded "No Action" and your money returned.
Q: What if I bet on a player to score and he doesn't play?
A: Your bet will be graded "No Action."
You can learn more about the ins and outs of World Cup soccer betting by checking out our Help pages. In the meantime, you now have all of the information you need to start betting at Bodog Sportsbook. Enjoy the World Cup and everything that betting on the Beautiful Game has to offer.