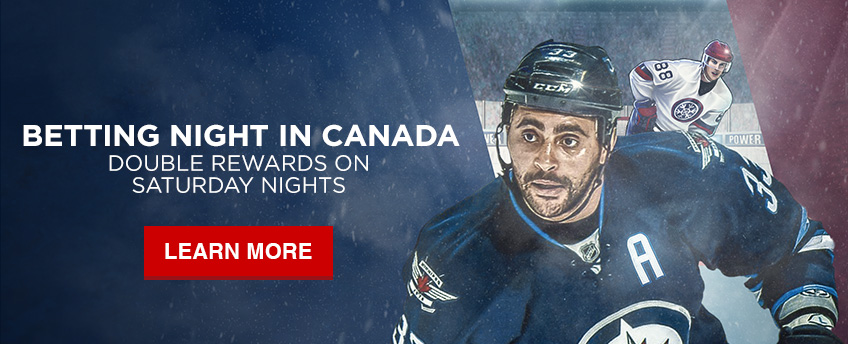 The Top 10 Hockey Enforcers of All-Time
The day of the hockey enforcer might be gone, but it's certainly not forgotten.
To celebrate the launch of our new slot game, Hockey Enforcers, for a limited time between December 15th and January 5th you can get double Rewards Points on all NHL prop bets and every spin of Hockey Enforcers on Saturdays, with Bodog's Betting Night in Canada promotion.
As incidences of fighting continue to fall year after year, many fans who grew up watching hockey in the 70s, 80s and 90s still reminisce about the times when heavyweight tilts and line brawls were as big a part of the sport's culture as the hat trick, the dipsy-doodle or the glove save. Seeing Rob Ray square off against Tie Domi, or Wendel Clark and Bob Probert trade haymakers, was often a bigger highlight than anything that happened to decide the actual game outcome.
Here's a breakdown of the 10 best hockey enforcers of all-time (fight stats courtesy DropYourGloves.com):
Bob Probert (Career PIM: 3,300)
While he didn't have the most NHL fights of all-time – he actually comes in fourth on the list at 303 – Probert is certainly one of the most well-known enforcers in the history of hockey. The late Detroit Red Wings bruiser wasn't the least bit shy about dropping the gloves, and had his share of familiar foes, including the aforementioned Clark and Domi, Donald Brashear and Stu Grimson, whom he fought a whopping 14 times in his NHL career – more than any other opponent.
You'll see plenty of Probert highlights online, and most of them have nothing to do with his scoring prowess (though he remains the only player in NHL history with a 60-350 season, having recorded 62 points and 398 penalty minutes with the Red Wings in 1987-88). But on a highlight reel that features thousands of punches thrown and nearly as many absorbed, this classic tete-a-tete with Domi stands out as one of the best of his career – and maybe of all-time:
Rob Ray (Career PIM: 3,207)
Ray ranks sixth on the all-time NHL fights list with 294; it probably just seems like he should be higher, since he was trading knuckles just about every time his skates hit the ice. Ray's most notable foil: Domi, whom he fought 15 times in his career; according to Drop Your Gloves, Ray won just four of those matchups. In fact, you might be surprised to know that Ray finished his career with more losses than wins, though that never stopped him from partaking.
Ray was also quick to come to the defense of his teammates – most notably when the Sabres faced Pittsburgh on Oct. 17, 1996. The Penguins' Francois Leroux – a decent fighter himself – knocks Sabres superstar Pat LaFontaine into next week, and Roy rushes to defend his teammate despite giving up both height and weight to Leroux. This one is notable because LaFontaine missed 70 games with a concussion and was forced to retire just two years later:
Tie Domi (Career PIM: 3,515)
You knew what kind of player Domi would be simply by looking at the stat line from his first taste of NHL action with Toronto in 1990: two games played, 42 penalty minutes. Domi was a flurry of fists everywhere he went, finishing with the third-most penalty minutes and the most recorded fights in the history of the NHL (339). In fact, Domi picked up a fighting major in the second-last game of his incredible career, earning a game misconduct for good measure at the ripe old age of 36.
While we already highlighted what many consider to be Domi's most entertaining NHL fight in the Probert section, there's no shortage of runner-up contenders. Yet, while we could almost certainly select one among Domi's most frequent opponents –Probert, Ray, Brashear and Sandy McCarthy – it's this "bout" with noted antagonist Ulf Samuelsson that most hockey fans will remember with a certain level of fondness, given Samuelsson's reputation around the league at that time:
Chris Nilan (Career PIM: 3,043)
The man known lovingly as "Knuckles" was one of the most revered enforcers in the league in his tenure with Montreal, during which he was tasked with protecting a new generation of Canadiens stars in the years following the team's Stanley Cup four-peat in the late 1970s. And few did it better at that time than Nilan, who won 55 percent of his bouts despite taking on combatants often much taller and larger than he was.
Yet, while the majority of Nilan's fights weren't exactly highlight-reel material, he did have a few doozies worth mentioning. And one in particular stands out, from – of all things – a pre-game playoff brawl between the Canadiens and Philadelphia Flyers from 1987. And while this tussle didn't resonate from an artistic standpoint, you have to give both Nilan and Flyers counterpart Dave Brown full marks for lasting as long as they did (skip ahead to 3:20 for the good stuff):
Stu Grimson (Career PIM: 2,113)
You don't get a nickname like "The Grim Reaper" without earning every bit of it. And boy, did Grimson fit the moniker. The towering left winger amassed the 10th-most fights in league history (273) and won a whole lot more than he lost, which says plenty when you consider that he tangled with the toughest guys the NHL had to offer. His most frequent opponent: none other than Probert, who fought Grimson 14 times (and earned the "win" on six occasions.)
Grimson's Rolodex of punishment features plenty of great moments – but the best of all might have gone unnoticed by even the most ardent of fight fans. While high-quality video of this fight has proven elusive, Grimson's most entertaining bout, at least in our opinion, comes courtesy a 1992-93 preseason encounter with Detroit Red Wings menace Dennis Vial, in what would be Grimson's final season in Chicago. If you like seeing some fists fly, this is the clip for you:
Craig Berube (Career PIM: 3,149)
Berube is one of only five players in history with more than 300 fights on his resume (304) – and his success rate in those bouts is among the highest of any of his contemporaries. Berube spread out his bouts more than most enforcers from his era, not fighting one guy more than eight times. But having enjoyed stints with five NHL teams while appearing in more than 1,000 NHL games, it's clear that Berube was a highly-sought after insurance policy despite limited offensive skill.
While Berube was the victor more often than not, he even looked good during his infrequent defeats – and one loss in particular serves as his most entertaining fight of all. Appearing in just his 13th regular-season NHL game, Berube took on Quebec Nordiques tough guy Gord Donnelly in a Nov. 28, 1987 bout that didn't last very long, but featured more haymaker attempts than you'll see in a week's worth of fights in 2018:
Donald Brashear (Career PIM: 2,634)
You might think back on Brashear's knockout-filled career and think of him as a one-dimensional hockey player. And while that might be true of his NHL tenure, Brashear was more talented than most enforcers of his time; he even had 38 goals in his first full AHL season as a 22-year-old. But we're here to talk about face-punching – and few players did it better than Brashear who recorded a whopping 60 percent win rate over his 277-fight resume.
Yet, for all the tete-a-tetes Brashear had in the NHL, his most famous bout – at least, among hockey fight fanatics – took place Dec. 7, 2004, when Brashear played for Quebec in the North American Hockey League. This fight might have gone a lot differently had Thetford Mines counterpart Glen Kjernisted not attempted a headbutt, which you can see at the 11-second mark. After that happens ... well, it's pretty much game over for Glen:
Joe Kocur (career PIM: 2,519)
Imagine having to face a team that had both Bob Probert and Joe Kocur in the lineup. That's the reality teams in the mid-to-late 1980s had to deal with, as the Red Wings' dynamic duo punched their way into our hearts – and, of course, the penalty box. Kocur ranks just outside the top 10 in career NHL fights (270), but like most of the guys at or near the top of the list, he was hard to beat. In fact, Drop Your Gloves counts 142 victories for Kocur against just 22 losses. Gulp!
Given the novelty of having both Probert and Kocur around to protect the likes of Steve Yzerman, Adam Oates and the rest of Detroit's skill players, you can understand Red Wings fans' fondness for remembering the first time the former Bruise Brothers squared off as opponents in December 1993. And as you can see by the clip below, while the bout certainly didn't disappoint, it could have been so much better had a fun-squelching linesman not stepped in to intervene:
Dave "Tiger" Williams (Career PIM: 3,927)
The 1980s and 1990s produced some truly menacing hockey enforcers – but most pale in comparison to Williams, one of the original kings of the NHL ring who still has the league record for career penalty minutes while recording the second-most fights in history (327). Williams led the NHL in PIM on three occasions, while still finding the time to record more than 500 career points over 962 career regular-season games with five franchises.
You'd have an easier time finding a dislodged molar on a freshly Zamboni-ed ice surface than you would unearthing quality footage of the majority of Williams' fights. Fortunately, we've tracked down footage from one of Williams' most entertaining battles, the one pulled from an April 22, 1976 playoff showdown between the Maple Leafs and (you guessed it) the Flyers. Here, Williams engages in a punch-heavy tilt with Flyers tough guy Jack McIlhargey:
Dave Semenko (Career PIM: 1,175)
No true enforcer list would be complete without the man tasked with protecting who many consider to be the greatest player in the history of the game. And while Semenko's final fight tally (109) falls well short of the others on this list, that's due in no small part to the fact that opposing teams just didn't mess with him. And with good reason: Semenko "lost" just 11 fights over the course of his career, much of which saw him skate on a line with Wayne Gretzky.
Vancouver Canucks forward Ron Delorme found out the hard way what happened when you messed with Semenko. Delorme finished with just 63 fights in his NHL career – and this was probably the worst of the bunch, as he squared off with Semenko in front of the net and took a punch to the side of the head (around the 15-second mark) that would have left the majority of us on the flat of our back. The lesson, of course: don't mess with Semenko: