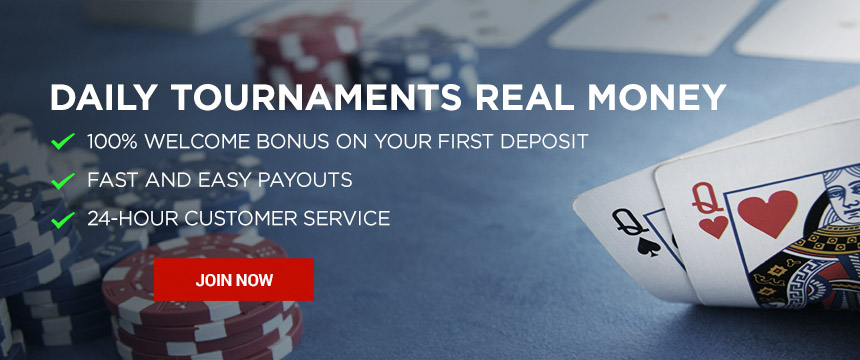 Tournament poker is the nuts. It's the most fun you can have at the poker table, and if you play your cards right, there's a big cash prize waiting for you at the end. Tournaments are also great for building a bankroll – if you're playing online poker at Bodog, you can play up to 20 tournaments at the same time. Here's a quick look at all the different kinds of casino tournaments you can play at Bodog Poker; don't forget, tourneys are available for Texas Hold'em, Omaha and Omaha Hi/Lo players, using fixed-limit, pot-limit, and no-limit betting.
These smaller tournaments run around the clock at Bodog and begin as soon as the tables fill up. They can be 1-table or multi-table SNGs, Hold'em or Omaha, with buy-ins between $1 and $200. SNGs are a great way for new players to practice their poker skills.
A typical poker tournament might have blind levels of 10 minutes or longer. The blinds go up more quickly in Turbos, anywhere from 3-6 minutes. The action gets even faster when you play Super Turbos and Hyper Turbos at Bodog – like the ones you can play in December during the 12 Days of Turbos festival.
More chips means more fun, and you'll get double the usual amount of chips when you play a Deep Stack tournament at Bodog. You'll also find Super Stack and Mega Stack tourneys, plus special 10K and 12K events, where you start with enough chips in your stack to do some serious damage.
In this popular format, there's a bounty on the heads of everyone at the poker table – yours included. Every time you knock an opponent out of the tournament, you receive that player's bounty. With the Super Knockout format, half the money you win for eliminating players goes into your account, while the other half gets added to your own bounty.
With shootouts, which cover both 6-max and full-ring Hold'em and Omaha, each table plays down to a winner, who advances to the next round and sits at a new table with other winners. Each round is played at the same blind level, with the levels increasing as the tournament progresses until there's just one table left and one winner to crown.
Also known as satellites, these casino tournaments allow you to win a seat into a tournament with a larger buy-in, like the $450 Main Event at the annual Super Millions Poker Open, or the weekly $162 tournaments that run every Sunday with $100,000 guaranteed in the prize pool. You can qualify for these tournaments for as little as $1. It's how poker booms are created.
To see a full list of poker tournaments available at Bodog Poker click here.