Help Home
Sports
Casino
Live Dealer
Poker
Horses
Bitcoin
Financial
Bonuses
Account and Security
Video Library
Refer A Friend
What is a Quarter Ball?
A "Quarter Ball" gives teams two virtual spreads or totals that are a combination of a half goal and a whole goal handicap.
Your risk amount is divided equally between a bet on the half goal and a bet on the whole goal.
Below is an example of what will appear in your Bet Slip: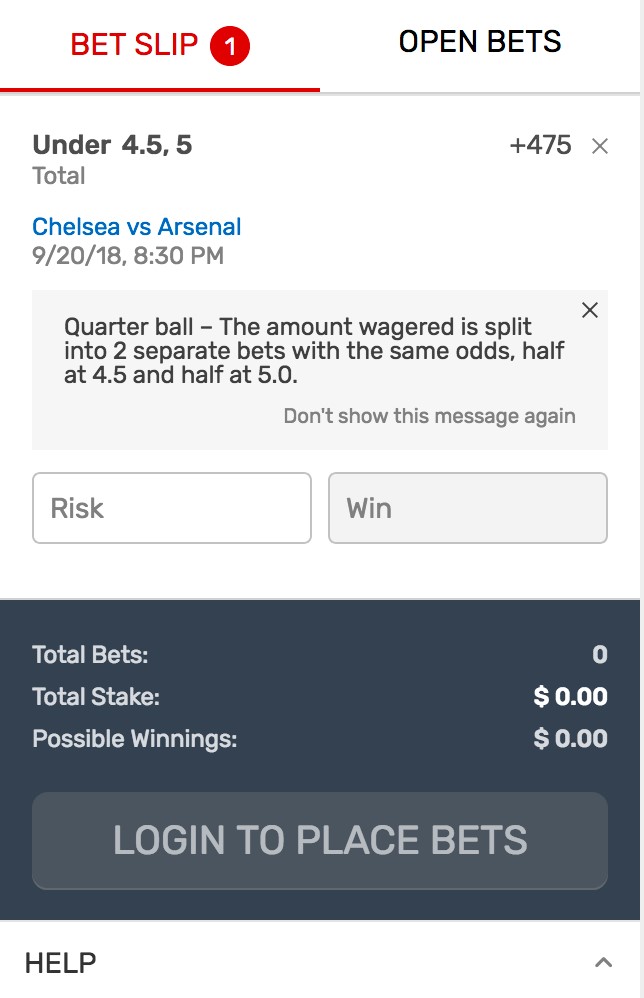 For example, if you bet $20 Under 4.5 & 5 goals in the Chelsea vs Arsenal match, then you would have two separate $10 bets (at the same odds of +475) on Under 4.5 and Under 5 goals being scored.
• To win both sides of your bet at odds of +475, the total would need to be 4 or less for the match.
• If the total is exactly 5 goals, your $10 bet on 5 is refunded and your $10 bet on 4.5 is settled as a winner at odds of +475.
• If the total number of goals scored in the match is 6 or over, both selections will result in a loss.
All Quarter Balls are subject to standard Soccer Betting Rules.
Related Topics:
Did you find what you were looking for?