Help Home
Sports
Casino
Live Dealer
Poker
Horses
Bitcoin
Financial
Bonuses
Account and Security
Video Library
Refer A Friend
How do I request a withdrawal?
Requesting a withdrawal from your Bodog account is fast and easy. Just follow the steps below:
1. Login to your account and click the silhouette icon at the top of the page.

2. From the following window, click 'Withdraw'.

3. Choose the withdrawal method that suits you best.

4. Enter the amount you wish to withdraw along with any required information, then click 'Request Withdrawal'.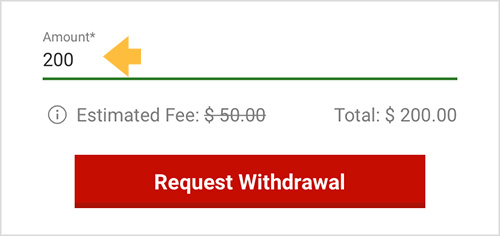 5. Once you've made a successful request, you'll be provided with a confirmation as well as a unique reference number.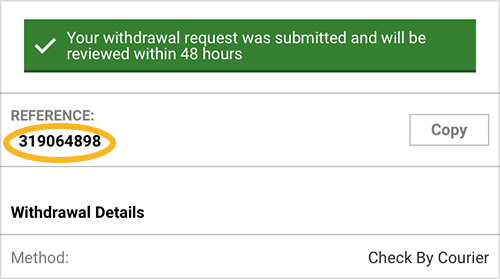 Please take note of the following important information before you make a withdrawal:
The amount of your withdrawal request is deducted from your account balance upon approval. Playing below that amount before your withdrawal is approved will result in the cancellation of your request.
Please ensure that all pending or pre-authorized deposits into your Bodog account have been settled first.
We process withdrawals every day on a first-come, first-served basis but withdrawal requests can take anywhere between 24 to 48 hours to be approved. Delivery time frames vary depending on your method of withdrawal. Click here to learn more.
We are unable to send a cheque by courier withdrawal to a P.O. Box (or military address). Please double check your address on file to avoid any delivery delays.
As per the Bodog Terms of Service, you may be required to submit documentation for verification prior to a payment being processed.
RELATED TOPICS:
Did you find what you were looking for?