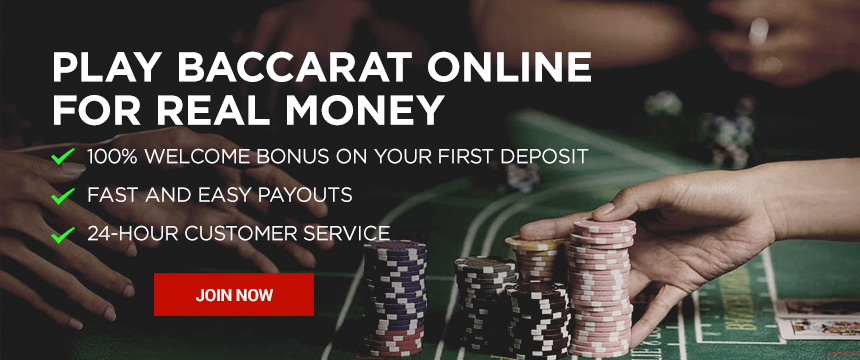 The world looks a bit different now than it did in 1953. That was the year Ian Fleming published his first James Bond novel, Casino Royale. The plot sees Bond at the fictional Royale-les-Eaux casino in the north of France, playing against the villainous Le Chiffre in a game that was unfamiliar to most Western readers at the time: Baccarat. Fleming knew this game well – he even included a beginner's guide to Baccarat in his novel. The next thing you know, Bond was an international sensation, and thousands of tuxedo-clad hopefuls were learning how to win at Baccarat.
Not only has Bond changed through the years, so has the game he made famous. If you step up to a Baccarat table at most casinos around the world (including here at Bodog Casino), you'll be playing a different version of the game Bond excelled at – and a much simpler version. It's a lot like the difference between playing poker and poker-based table games. We'll show you how to play this version of online Baccarat and how to get the most enjoyment while you're playing at Bodog.
Baccarat Guide Overview
Before we get those cards in the air, let's make sure we know which game we're playing. The version of Baccarat that appears in Casino Royale is known as chemin de fer, which literally means "railroad" in French. In chemin de fer, the players do battle against each other, while the casino charges a fee for hosting, just like they do for a standard poker game.
The Baccarat variant most people play today is known as punto banco, or "point-bank" in Spanish, where "point" refers to the pips on the playing cards. The origin of punto banco can be traced to the early 1950s, and the Mar del Plato casino in Argentina, where the game was known as punto y banca; Frances "Tommy" Renzoni, a junior manager at the Capri Hotel Casino in pre-Castro Cuba, brought this version of Baccarat to the Sands Hotel in Las Vegas in 1959 – one year after the Sands opened their first chemin de fer table.
It didn't take long for punto banco to take over as the Baccarat game of choice. For one thing, it requires fewer employees to operate; chemin de fer uses multiple croupiers, while punto banco needs just one. More importantly, in punto banco, the players go up against the house instead of each other. This version of Baccarat fits in nicely with the other real money table games at Bodog Casino, like Tri Card Poker and Let 'Em Ride. It's fast, it's fun, and it's a lot easier to learn than chemin de fer.
How to Win Online Baccarat
The biggest reason this version of Baccarat is so easy is that you don't have to make any decisions once you place your bet. It's a game of chance. You and the dealer, known as the Banker in this game, each receive two cards, face-up, from the standard 52-card French deck (Bodog uses a six-deck shoe for Baccarat). Kings through Tens are worth zero points, Aces are worth one point, and everything else is face value. The object of Baccarat is similar to Blackjack, except you're trying to make nine instead of 21. If your cards add up to more than 9, you remove the first digit, meaning your score is whatever number is in the "ones" column; for example, a pair of Nines (18) is worth eight points.
If you haven't already made either an eight or a nine (also known as naturals) with your first two cards, you're given a third card – sometimes. Unlike Blackjack, you don't decide whether to hit or stand when you play Baccarat. That decision has already been made for both you and the Banker, based on the following layout of potential scenarios known as the tableau ("table" in French):
Player Draws

Player's Total

Banker's Total

-

0

1

2

3

4

5

6

7

8

9

9

-

-

-

-

-

-

-

-

-

-

-

8

-

-

-

-

-

-

-

-

-

-

-

7

-

-

-

-

-

-

-

-

-

-

-

6

-

-

-

-

-

-

-

D

D

-

-

5

D

-

-

-

-

D

D

D

D

-

-

4

D

-

-

D

D

D

D

D

D

-

-

3

D

D

D

D

D

D

D

D

D

-

D

2

D

D

D

D

D

D

D

D

D

D

D

1

D

D

D

D

D

D

D

D

D

D

D

0

D

D

D

D

D

D

D

D

D

D

D
As you can see, the possible totals for the Banker after two cards are listed on the left side of the table, while the Player's totals are listed across the top. The "Player Draws" column shows when the Player gets a third card, which is anytime the Banker has five points or fewer. All the other Ds on the table show when the Banker draws a third card. If you have seven points and the Banker has six, the Banker draws. If you have five and the Banker has six, the Banker stands pat. Once the third card (if required) has been drawn, that's it – whoever has closest to nine points wins.
Understanding Bets and Payouts
There is one decision you have to make when you play Baccarat: where to place your bet. In punto banco, you can bet on the Player, the Banker, and the Tie. Each comes with different payouts and different house edges. If you bet on the Player and they win, you get paid even money. Winning bets on the Banker get even-money, minus a 5% commission. If the Player and Banker each end up with the same hand value, it's a push – unless you bet on the Tie, in which case you'll get paid out at a handsome 9:1.
So why not just bet on the Tie every time? The Baccarat casino payout may be higher for this wager, but given the six-deck shoe and the table above, the chances of the Tie bet winning are 9.50%, generating a house edge of 4.85%. The Player bet is much more likely to win at 44.62%, for a house edge of 1.24%. However, it's the Banker bet that wins most often at 45.86%, so even with the commission, you end up with a tiny house edge of 1.06%. That's one of the smallest edges you'll find for any casino game.
Because there are no decisions to be made other than which bet to place, there's no particular strategy that will help you make a long-term profit at the Baccarat tables. However, it's still a very good idea to practice sound bankroll management anytime you play the table games at Bodog Casino. Choose the size of your bets carefully; bigger bets are more fun, but always keep in mind the size of your bankroll.
To avoid an early exit from the tables, divide your bankroll into a certain number of units, and bet one unit per hand. This number could be anything, although 100 units is a simple standard for beginners. For a more advanced approach, you can base the number of units on how long you want your Baccarat session to last. You can anticipate being dealt at least 200 hands per hour when you play online at Bodog, compared to around 60 at a live casino, depending on how quickly you place your bets between hands. Combine that figure with the house edges for the bets you'll make (maybe you'll want to mix in some Tie bets, just for fun) and your desired session length, do a little math, and you can figure out your ideal bet size from there.
It's very important to stick with your pre-determined bet size once you've started your Baccarat session. If you go on a hot streak and wind up with more money than expected, don't respond by raising the stakes. Just pocket your winnings and end your session when you planned to. This will help prevent you from making poor decisions at the Baccarat tables.
Lastly, don't forget that you can play Baccarat on your mobile device as well as your desktop, using the Bodog mobile casino web app. You don't need to download anything, just log in and play. Now that you know a little about the history of Baccarat and how to play the game the right way, give it a spin for free using the Practice Play mode. Then try some real money Baccarat when you're ready for the next level – no tuxedo required.